Spiced garbanzo bean pie with potato crust
A hearty main dish that's packed with protein and flavour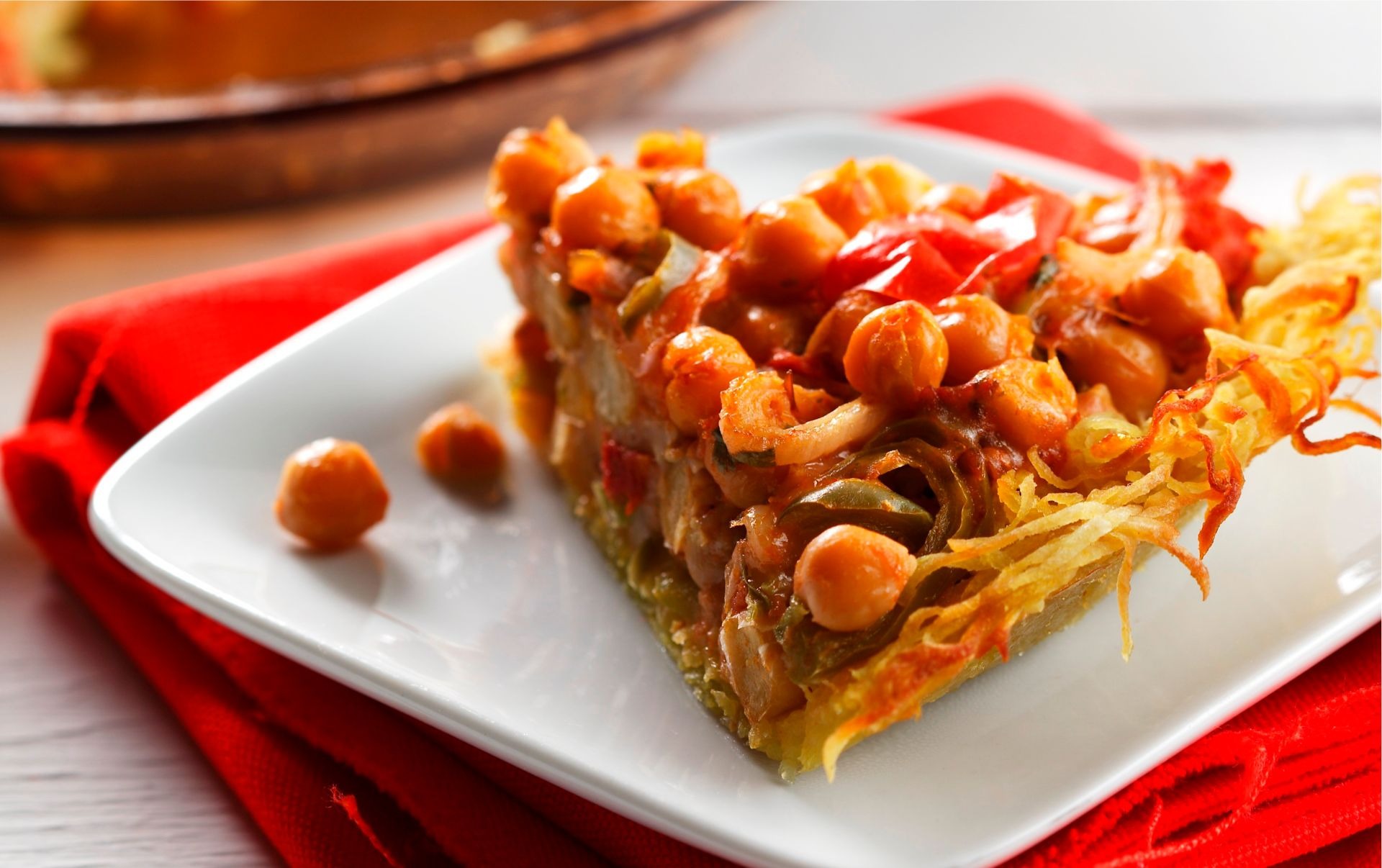 Directions
Step 1

Preheat oven to 350 °F (180 °C). Liberally spray two 9-inch (22-cm) pie pans (bottoms and sides) with canola oil cooking spray.

Step 2

In medium bowl, combine potatoes, canola oil and turmeric. Divide dough into two equal halves and press each half into one of prepared pie pans, making sure bottom and sides get covered with potato shreds.

Step 3

Bake in oven 5 minutes. Remove from oven and set aside.

Step 4

To make filling, heat canola oil in large skillet or sauté pan over medium-high heat. Sprinkle in cumin seeds and allow them to sizzle, about 15 seconds.

Step 5

Add onion and bell pepper and stir-fry until onion is golden brown, 5 to 7 minutes.

Step 6

Stir in ground coriander and cumin, allowing them to cook and turn aromatic, about 15 seconds.

Step 7

Add garbanzo beans, tomatoes and chile. Stew mixture, uncovered, stirring occasionally, until almost all liquid is absorbed, 10 to 12 minutes.

Step 8

Turn off heat and allow pan's contents to cool slightly, about 10 minutes.

Step 9

Stir in cheese, eggs and cilantro.

Step 10

Divide and spread filling equally among two prepared potato crusts. Bake pies, uncovered, until centers are cooked and crusts are brown, about 45 minutes.

Step 11

Allow pies to rest about 10 minutes. Slice into wedges and serve.
Nutritional information
Per serving (1 of 12)
Total fat

10 g

Saturated fat

2.5 g

Cholesterol

45 mg

Carbohydrates

38 g

Fibre

8 g

Sugars

5 g

Added sugars

0 g