Poached egg with mushroom barley pilaf
Barley is versatile whole-grain with several health benefits.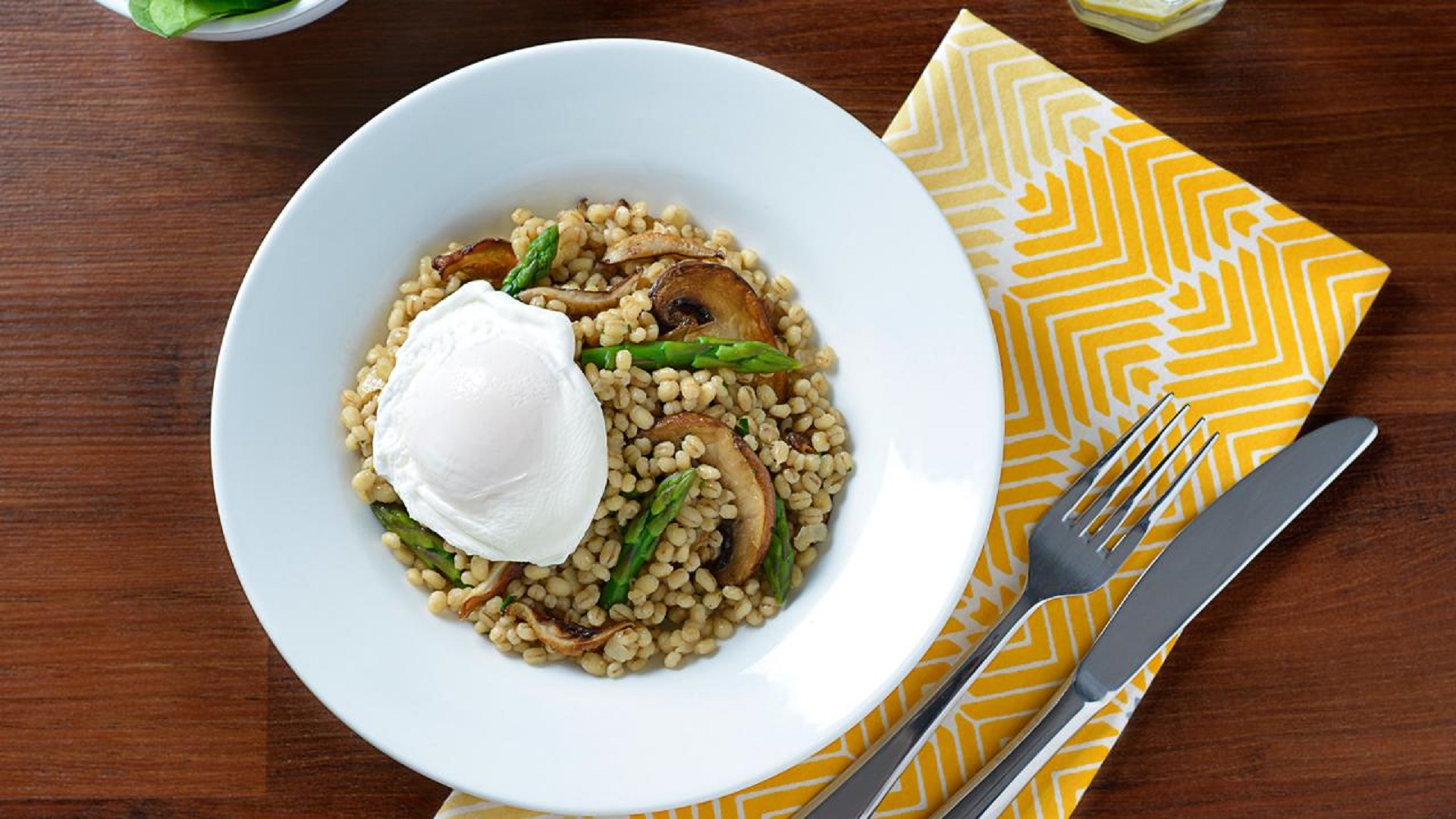 Directions
Step 1

Pour broth into saucepan set over medium heat; bring to a simmer. Reduce heat to low to maintain heat. Heat oil in Dutch oven set over medium heat. Add onion, thyme, rosemary and mushrooms. Cook for 7 to 10 minutes or until browned. Add barley, garlic and pepper. Cook for 2 minutes or until well coated and fragrant.

Step 2

Ladle in 1 cup (250 mL) broth. Cook, stirring constantly, until almost all the liquid is absorbed. Continue to add all but 1/2 cup (125 mL) of broth, 1 cup (250 mL) at a time and stirring constantly, for 20 to 25 minutes or until barley is tender but still slightly toothsome in the centre. Stir in asparagus, reserved 1/2 cup broth (125 mL) and parsley. Cook for 2 to 3 minutes or until heated through. Adjust pepper to taste, if desired.

Step 3

Meanwhile, fill saucepan with about 3 inches (8 cm) of water. Heat until water simmers gently. Break cold egg into small dish or saucer. Holding dish just above simmering water, gently slip egg into water. Repeat for remaining eggs. Cook in barely simmering water for 3 to 5 minutes or until white is set and yolk is cooked to desired level of doneness. Remove eggs with slotted spoon. Drain well on paper towel. Place over each portion of barley.
Tips
To blanch asparagus, drop into rapidly boiling, salted water for 1 minute. Drain and immediately plunge into ice water.
Nutritional information
Per serving (1 of 6)
Total fat

11 g

Saturated fat

2 g

Cholesterol

193 mg

Carbohydrates

46 g

Fibre

10 g

Sugars

4 g

Added sugars

1 g
Recipe and photo provided by Egg Farmers of Canada ©