Lentils of Arabia with rice, cumin and caramelized onions
Make this a day or two ahead of serving to let flavours mature and evolve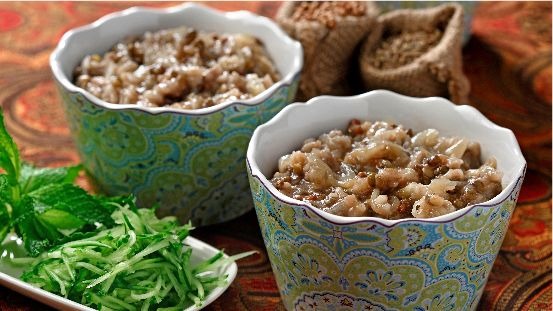 Directions
Step 1

In medium saucepan, add lentils and fill pan halfway with water. Rinse lentils by rubbing them between your fingertips. Water will become cloudy; drain it. Repeat three or four times, until water remains relatively clear then drain. Now add rice and 5 cups (1.25 L) water. Bring water to boil over medium-high heat. Skim off and discard any foam that may form on surface. Stir in coriander and cumin. Lower heat to low and simmer, covered, stirring occasionally, until rice and lentils are soft and creamy in texture, similar to cooked risotto, 45 minutes to 1 hour.

Step 2

Meanwhile, in large skillet or wok (preferred), heat canola oil over medium heat. Once oil appears to shimmer, add onion and stir-fry until it turns deep caramel brown in color, 25 to 30 minutes.

Step 3

Once lentils and rice are cooked and porridge-like in consistency, stir in onion and serve warm.
Nutritional information
Per serving (⅔ cup / 150 mL)
Total fat

5 g

Saturated fat

0.5 g

Cholesterol

0 mg

Carbohydrates

26 g

Fibre

6 g

Sugars

2 g

Added sugars

0 g