Balsamic beef with polenta
Watch the video below to make this hearty, flavour-packed dish.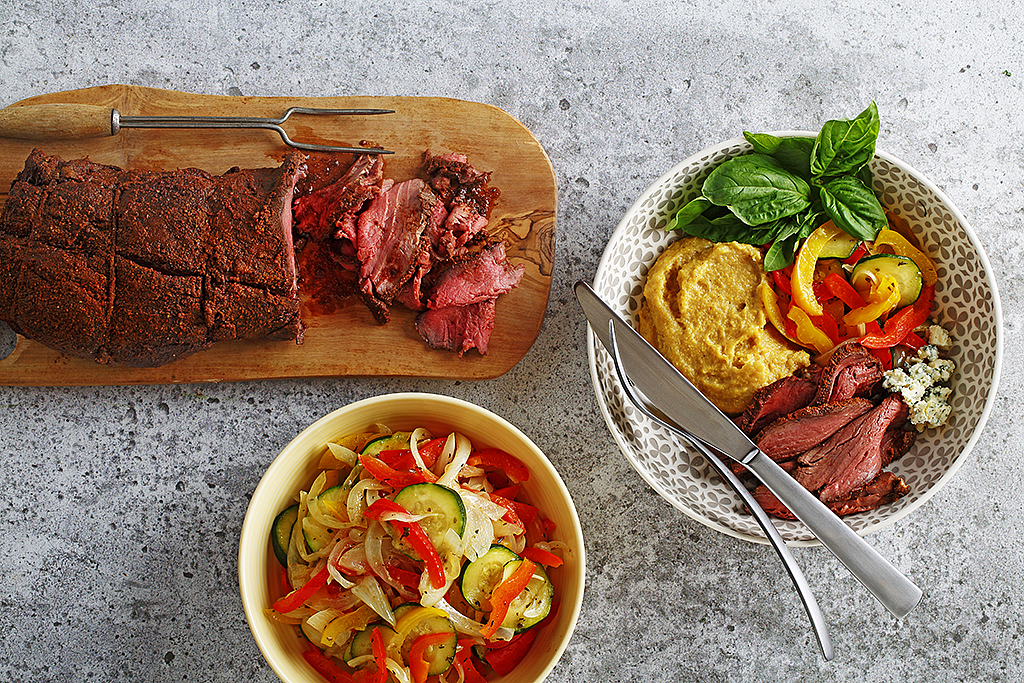 Directions
Step 1

Brush tenderloin evenly all over with vinegar.

Step 2

In a shallow dish or small baking sheet, combine porcini dust, paprika, salt, garlic and onion powder and pepper. Roll tenderloin roast in spices to coat all over. Place on rack in roasting pan.

Step 3

Place roast in preheated 500F (260C) oven for 10 minutes. Reduce heat to 275F (135 C) and roast for about 45 minutes or until meat thermometer reaches 135F (57C) for medium rare. Let stand 5 minutes before slicing.

Step 4

Meanwhile, in a large deep saucepan, heat oil over medium high heat. Saute onion, zucchini, red and yellow peppers with Italian seasoning for 5 minutes or until starting to brown; scrape out onto a plate. Add broth to same pan and bring to a boil. Whisk in cornmeal until starting to thicken. Reduce heat to medium low and, using wooden spoon, stir polenta occasionally for about 7 minutes or until thickened. Stir in sauteed vegetables and cook for 3 minutes. Stir in blue cheese and remove from heat.

Step 5

Ladle polenta into shallow bowls and top with sliced beef. Sprinkle with basil and drizzle with canola oil, if using to serve.
Tips
To make porcini dust, simply use dry porcini mushrooms and grind them finely in a spice or coffee grinder until they look like dust. This is a wonderful and easy way to add mushroom flavour to anything. Keep it in a dry sealed jar and use it as a new spice to any dishes with or without mushrooms! 1 pkg (0.5 oz/14 g) of dried porcini mushrooms will give you about 1/4 cup (50 mL) of porcini dust.

Aged balsamic vinegar is typically a bit thicker than regular balsamic vinegar and has a slightly sweeter flavourl. It helpz the spice mixture adhere to the roast.

If you have any leftovers they reheat beautifully in the microwave. Or you can pan fry the polenta before topping it with the warmed or room temperature beef.
Nutritional information
Per serving (1 portion)
Total fat

12 g

Saturated fat

5 g

Cholesterol

75 mg

Carbohydrates

26 g

Fibre

3 g

Sugars

6 g

Added sugars

0 g