Fun frittata
There is nothing in the kitchen as versatile as eggs. They can be used for preparing everything from a simple breakfast to a hearty supper.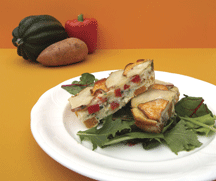 Directions
Step 1

Preheat oven to 350˚F (180˚F).

Step 2

Heat 2 tsp (10 mL) olive oil in a skillet and sauté onions until lightly browned. Add mushrooms and squash and cook on medium heat until soft, approximately 10 minutes. Let vegetables cool slightly.

Step 3

Meanwhile, in a large mixing bowl, whisk eggs, milk and salt together. Stir in the cooked vegetables, peppers, parsley and grated mozzarella. Use remaining 2 tsp (10 mL) olive oil to coat a 8-inch (1.5-litre) baking dish.

Step 4

Pour mixture into dish. Arrange the sweet and red potato slices on top, alternating or in a decorative pattern, and sprinkle with Parmesan cheese.

Step 5

Bake for 30 minutes or just until eggs set. Frittata can be served in wedges with a salad on the side.
Tips
Use frozen or pre-cut vegetables. Frozen vegetables are as nutritious as fresh produce because they are usually flash-frozen at harvest time.
Nutritional information
Per serving (1 of 6)
Total fat

12 g

Saturated fat

5 g

Cholesterol

200 mg

Carbohydrates

21 g

Fibre

3 g
Recipe developed by Deborah Hoffnung, PH Ec. ©Heart and Stroke Foundation 2006.