Muesli muffins with almonds and cranberries
Whole grains, cranberries and almonds jack up the nutrient power in these muffins compared to common, cake-like ones.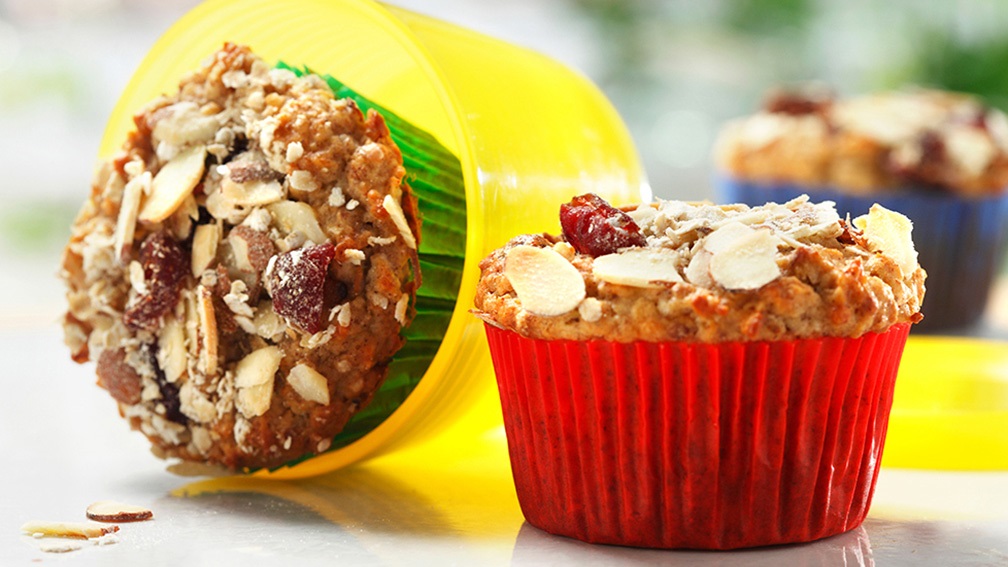 Directions
Step 1

Preheat oven to 350 °F (180 °C). Lightly spray 12-cup, non-stick muffin pan with cooking spray.

Step 2

In large bowl, whisk together flour, sugar, flaxseed, cinnamon and baking soda.

Step 3

In small bowl, combine almonds, 1/4 cup (50 mL) oats and 1/4 cup (50 mL) cranberries and set aside. Stir remaining oats and cranberries into flour mixture until well blended.

Step 4

In medium bowl, whisk together yogurt, canola oil, pear purée, egg and almond extract. Stir yogurt mixture into flour mixture until just blended. Do not overmix.

Step 5

Spoon equal amounts of batter into muffin cups. Sprinkle evenly with reserved almond mixture. Bake 18 to 20 minutes. Cool in pan 5 minutes. Remove from pan; serve warm or let cool to room temperature.
Nutritional information
Per serving (1 muffin)
Total fat

9 g

Saturated fat

1 g

Cholesterol

15 mg

Carbohydrates

34 g

Fibre

3 g

Sugars

18 g

Added sugars

10 g