Breakfast strata primavera
This stunning dish is like a savory bread pudding studded with colourful spring vegetables and full of rich flavour.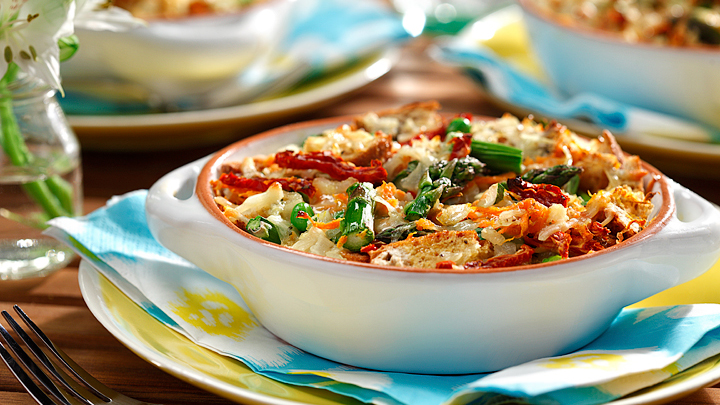 Directions
Step 1

In large nonstick skillet, heat canola oil over medium-high heat. Add onion and cook, stirring, until softened, about 3 minutes. Add garlic and continue to cook for 1 minute more. Add asparagus and cook, stirring occasionally, until just beginning to soften, about 1 minute. Stir in peas, remove from heat and set aside.

Step 2

Coat 9 x 13-inch (22 x 33-cm) baking dish with canola oil cooking spray. Arrange bread cubes over bottom. In large bowl, beat whole eggs, egg whites, milk and mustard together until blended. Add vegetable mixture, both cheeses, carrot, sun-dried tomatoes, tarragon and pepper, stirring to incorporate. Pour mixture over bread, making sure liquid saturates bread. Cover with plastic wrap and refrigerate overnight or at least 8 hours.

Step 3

Remove strata from refrigerator, uncover and allow to sit at room temperature while you preheat oven to 350 °F (180 °C). (Do not keep at room temperature for more than 20 minutes.) Bake until set and top forms golden brown crust, 70-80 minutes.
Nutritional information
Per serving (1 1/2 cups / 375 mL)
Total fat

8 g

Saturated fat

2 g

Cholesterol

145 mg

Carbohydrates

23 g

Fibre

6 g

Sugars

7 g

Added sugars

0 g