Skillet quinoa with black beans, cilantro and feta
This quick and easy dish is a made-to-order meal for everyday athletes.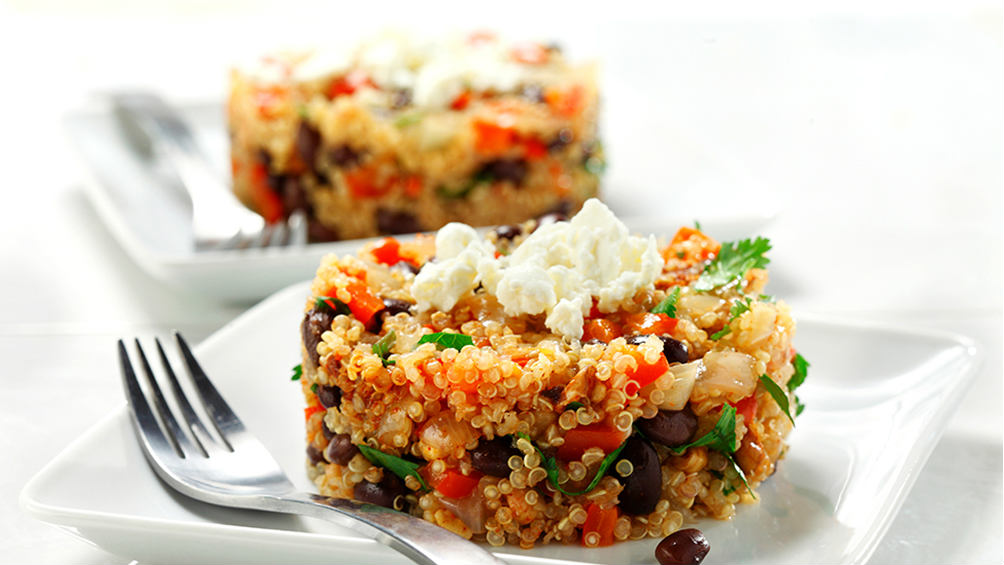 Directions
Step 1

In large, non-stick skillet, heat canola oil over medium-high heat. Add onion and pepper. Sauté 5 minutes or until onions begin to brown on edges, stirring occasionally. Add water and quinoa. Bring to boil over medium-high heat, reduce heat, cover and cook on medium-low for 12 minutes or until water is absorbed.

Step 2

Remove from heat, stir in beans, walnuts, chili powder, feta, cilantro and garlic. Cover and let stand 2 minutes to heat through and absorb flavours.
Tips
For a vegetarian version, replace feta with vegan cheese or tofu.

Leftovers? Add quartered grape tomatoes, a squeeze of fresh lemon juice and a bit more cilantro for an easy meatless entrée.
Nutritional information
Per serving (1 cup / 250 mL)
Total fat

8 g

Saturated fat

1.5 g

Cholesterol

0 mg

Carbohydrates

31 g

Fibre

7 g

Sugars

3 g

Added sugars

0 g