Tuna stir-fry over whole wheat vermicelli
Made with cubed tuna and fresh veggies this dish is rich with nutrients and fibre.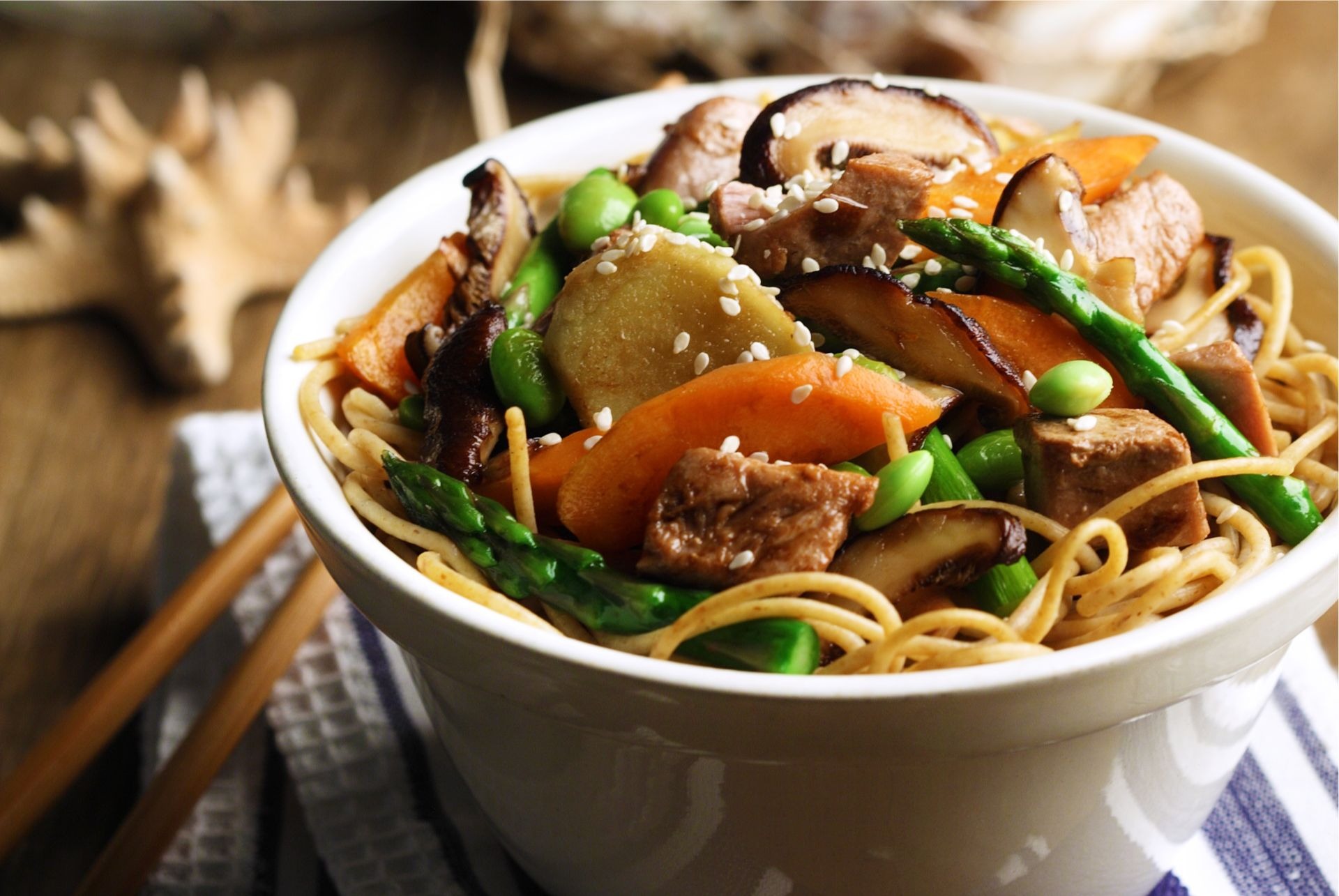 Directions
Step 1

In medium bowl, toss tuna with canola oil, (this ensures perfectly seared tuna). Set aside.

Step 2

In a small bowl, combine sauce ingredients. Set aside.

Step 3

Heat a wok or large heavy skillet to medium-high heat. Spray canola oil cooking spray to coat pan; add smashed garlic and ginger pieces to flavour oil. After 20 seconds, add carrots. Cook for 2 - 3 minutes, then add asparagus. Spray more canola oil if necessary to keep vegetables from sticking. Cook for additional 2 minutes or until asparagus is bright green and carrots are tender. Remove vegetables from pan and set aside on flat plate.

Step 4

Spray pan with canola oil cooking spray. Add mushroom pieces. Cook for 2 - 3 minutes until browned. Remove from pan and set aside with other vegetables.

Step 5

Reheat pan to medium-high heat. Add tuna in two batches without crowding pan. Gently move tuna around with spatula. Sear tuna until just cooked. Remove first batch from pan and set aside. Repeat with second batch, leaving in wok or skillet.

Step 6

Return carrots, asparagus and mushroom to wok or skillet. Add edamame and first batch of tuna. Make a well in center of stir-fry ingredients and pour sauce in middle. Coat vegetables with sauce and quickly bring to a boil. Serve tuna-vegetable mix over hot vermicelli.
Nutritional information
Per serving (1 of 6)
Total fat

6 g

Saturated fat

0 g

Cholesterol

35 mg

Carbohydrates

65 g

Fibre

9 g

Sugars

6 g

Added sugars

0 g