Many people see driving as an important part of regaining independence. Your ability to drive after a stroke depends on your vision, judgment, attention and physical abilities. About half of people with stroke can drive again. The loss of driving privileges can be very hard to accept as it means a loss of independence.
After a stroke, you are not allowed to drive until you have been assessed and cleared to operate a car by your healthcare team and provincial transportation department.
Before you get behind the wheel again
Driving is a complex activity. Driving safely uses all of your abilities — physical, cognitive and perceptual, as well as communication abilities. Stroke can affect these areas.
People are not allowed to drive after a stroke until they are assessed as capable. In many provinces and territories, doctors must notify the Ministry of Transportation when someone has a stroke. That means your licence will be suspended. Check the status of your licence and find out what is required to reinstate it.
Get assessed by an occupational therapist to see if you are ready to start driving again. You may need to learn new skills and adapt your vehicle to drive safely.
Depending on your initial driving assessment, you may need to complete a written test and a road test before you can drive again. The provincial driving evaluator will work with you to figure out if you are ready to drive. If you have problems communicating (aphasia), he or she may use aids, such as picture cards, to support communication needed for the written and road test.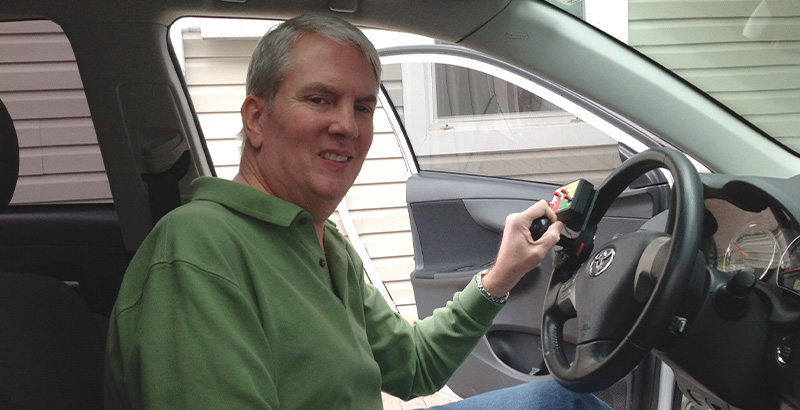 "It took me a year and a half to get my licence back - but it was worth it." – Joe
Be patient if driving is a goal. Give yourself time to recover from your stroke and prepare to drive again. Rushing into driving could put you and others at risk. And if you do not follow the assessment process, it could result in permanent loss of your license.
Accessible parking
Ask your healthcare team if you need to have an accessible parking pass. Find out how to apply in your province/territory.
Where to get support
Your occupational therapist is the key team member to support your return to driving.
The transportation ministry in your province can help you figure out the process for getting your licence back.
Find out your transportation options. Some examples are accessible transit, taxis, volunteers, driving services, friends and family.
Related information
To find useful services to help you with transportation, see our services and resources listing.
To learn more about the driver assessment process and vehicle modifications, watch this video from Spinal Cord Injury Ontario.