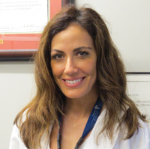 (Montreal) — The first research chair in Quebec focused on women's cardiac health, propelled by Heart & Stroke and McGill University, will officially be launched on July 1 via a research project led by Dr. Natalie Dayan, Assistant Professor of Medicine at McGill University's Faculty of Medicine and Director of Obstetrical Medicine in the division of General Internal Medicine at the McGill University Health Centre (MUHC).
"This initiative provides an incredible opportunity to expand our knowledge and to potentially help women reduce their future risk of heart disease and stroke by optimizing breastfeeding immediately after childbirth," says Dr. Dayan, who is also a Scientist from the Cardiovascular Health Across the Lifespan Program of the Research Institute of the MUHC. "While prior observational studies have suggested that over a lifetime, women who breastfeed longer tend to have lower blood pressure and less metabolic syndrome; no studies have evaluated breastfeeding for its immediate potential vascular protective qualities – almost as a drug."
Dr. Dayan and her team, which includes breastfeeding, mental health, and perinatal experts from McGill, Kingston, and the University of Toronto, will test a nursing-led breastfeeding intervention in women who suffered from high blood pressure or preeclampsia during pregnancy, and follow these women for up to 12 months after delivery in her specialized Maternal Cardiovascular Health clinic at the MUHC.
They plan to collect questionnaire data not only about breastfeeding but also on mental and physical well-being and other lifestyle habits that can contribute to hypertension and heart disease. Standard clinical measurements such as blood pressure and features of metabolic syndrome will also be collected at various time points.
"We will verify whether this intervention improves breastfeeding practices in these women and whether it also helps to lower blood pressure or need for blood pressure medication at 12 months postpartum," explains Dr. Dayan. She also has plans to follow these women long-term to track hospitalizations for heart disease or stroke.
This research chair on women's heart health is the fifth such chair in the country to be funded by Heart & Stroke: "Women's heart and brain health is misunderstood, and the way we're approaching it isn't enough. To improve treatment for women, we need to work with experienced healthcare professionals such as the researchers across the McGill community," states Dana Ades-Landy, CEO, Quebec, at Heart & Stroke. "It's time to make changes and get people engaged. That's why we're working together to transform women's cardiovascular health."
"We're honored that Heart & Stroke chose one of McGill University's innovative projects to create the first research chair for women's health in Quebec," notes Dr. David Eidelman, Vice-Principal (Health Affairs) and Dean of Medicine at McGill. "Dr. Dayan's work will help advance our understanding of women's heart health, a topic that merits increased attention from the scientific community. We are thrilled that Heart & Stroke has elected to support this important work at McGill."
Contrary to popular belief, heart disease and stroke are not "men's conditions". They are the leading cause of premature death in women, taking one life every seventeen minutes. In April 2018, Heart & Stroke launched the #TimeToSeeRed awareness campaign, to draw attention to heart disease and stroke in women and to speed up change. The campaign strengthened Heart & Stroke's commitment to defending equality in women's heart and brain health, particularly by investing more in women's health and encouraging further research into the subject.
Sex and gender-related gaps have taken too many women's lives, largely because most of the knowledge on the diagnosis and treatment of heart disease and stroke comes from research on men. However, there are no one-size-fits-all solutions, and some causes may be more prominent in one sex. One glaring inequality comes from the fact that two thirds of all cardiovascular disease clinical research focuses on men, making it hard to draw conclusions about the effects and risks of treatments for women.
For more information about women's heart and brain health, visit heartandstroke.ca/women.
About Heart & Stroke
Life. We don't want you to miss it. That's why Heart & Stroke leads the fight against heart disease and stroke. We must generate the next medical breakthroughs, so Canadians don't miss out on precious moments. Together, we are working to prevent disease, save lives and promote recovery through research, health promotion and public policy. heartandstroke.ca
About McGill University
Founded in Montreal, Quebec, in 1821, McGill is a leading Canadian post-secondary institution. It has two campuses, 11 faculties, 13 professional schools, 300 programs of study and over 40,000 students, including more than 10,400 graduate students. McGill attracts students from over 150 countries around the world, its 12,500 international students making up 30% per cent of the student body. Over half of McGill students claim a first language other than English, including approximately 20% of our students who say French is their mother tongue.
Contact information
Maryse Bégin
Manager, Communications, Quebec
Heart and Stroke Foundation
514-871-8038, ext. 20232
Maryse.Begin@coeuretavc.ca