I had him all to myself. And I was loving it (if you knew Regis, you would be selfish too.) But a split second changed that.
It was a call letting us know his father Pedro had a stroke. Of course, our first instinct was to run and be by his side. But Pedro was 6,000 miles away in Brazil. So, we stayed put and prayed his dad would make it through. It was nerve wracking. We desperately wanted updates, yet dreaded that every phone call could bring bad news.
I could only comfort Regis so much. His love for his dad was always clear, but never more obvious. And I had grown to love the gentle and hilarious Pedro, too.
Not a dry eye in the house: Hear Regis's heartfelt words to his father Pedro. And watch the moment Pedro plays and sings while recovering from stroke.

With each day, Pedro got better. Regular video chats meant we got to see his slow but steady recovery. And luckily, for Christmas 2016, Pedro and the family came to Canada to be reunited with his son, meet his soon-to-be daughter-in-law (me), and celebrate our wedding as our families united as one.
Pedro had one request: That he be able to play guitar and sing at our wedding.
Not a dry eye in the house
After hours of practicing the day before, Pedro started to play. It was a song he sang to his sons as they grew up — "How grand my love is for you."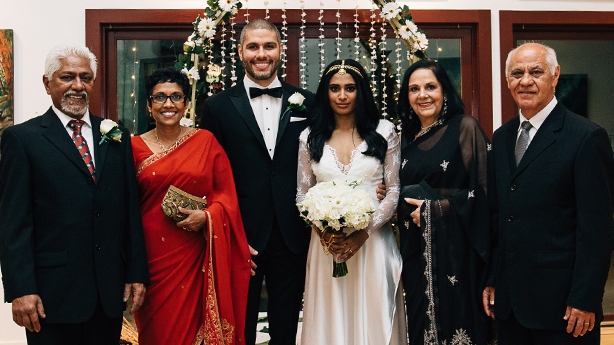 A family united: Lakna's parents Nalaka and Kumari, Regis, Lakna, Regis's parents Edina and Pedro.
Although his left hand was not as strong as his right, it was the most beautiful tune anyone had ever heard. There wasn't a dry eye in the house.
When the song ended, Regis and Pedro showed their undying bond. And in that moment, my husband had his dad all to himself, but was sharing him with me. He still is. And I'm loving it.
Join our fight
to make breakthroughs on heart and stroke research.
---