Isabelle Brasseur lost both her parents to heart disease and stroke.
But like many women, Isabelle says, she didn't think she was personally at risk. Then she learned she had a congenital heart defect. The condition, called vasodepressor syncope, can cause her heart to stop beating when she's under extreme stress.
While she was giving birth to her daughter, Gabriella, Isabelle's heart stopped for a terrifying 31 seconds. Quick thinking by doctors in the delivery room helped save mother and baby.
Today, Isabelle is back on the ice coaching young athletes. She's also a dedicated advocate for women's health, who is sharing her story to help more women put their heart health first.

How old were you when you learned about your heart condition?
I was 27. Before then, we always wondered what was happening because when I was younger it created some fainting spells. But I was also exercising so much that the doctors thought it was probably low blood sugar. I remember they recommended keeping orange juice close by.
Was there a moment when you realized that something more serious was happening?
I was in Chicago for a figure skating tour with my husband (Olympic pairs skater and two-time U.S. national champion Rocky Marval). I woke up and I didn't feel good at all. I ended up fainting and convulsing. I was rushed to emergency. At that time the doctors thought I had epilepsy. I kept telling my husband, "They're not fully listening to my story." It took eight months and many doctors before they finally diagnosed my condition.
How do you take care of your health today?
Over the years, I've learned some of the triggers that cause my fainting. I need to stay hydrated and get proper rest. I take medication (beta blockers) that help control my heartbeat. I steer clear of situations that would raise my heart rate. If anybody is talking about a story or watching a movie that would have gory details, I just walk away from it now.
There's also no way to completely run away from it. There's always a small percentage of fear in the back of my mind that it will happen again. But I try and think positive thoughts and that I'll be fine. If I stay on my couch, it could still happen. I might as well enjoy life and live it to my fullest.
Heart disease is a leading cause of death for women in Canada but many women don't know it. What would you like to tell them?
I think it's really important to be aware that it can happen to you. If there's anything that you can do to prevent it — do it. Don't think twice.
Women get busy with kids and work; we put ourselves last on the list. But it's not a disease that just affects men. It's proven that just as many women are affected by it. We really need to try and keep our eyes open and take care of it.
With your family history, is your daughter's heart health a concern?
It's definitely a concern, especially because heart disease also runs in my husband's family. Just like my dad, Rocky's dad died of a heart attack. Gabriella is well aware of her risks. But she's amazing. She pushes Rocky and me all the time. She'll ask, "Have you gone to get your heart checked lately?"
She's also really into nutrition. Now that she's 17, she's cooking dinner more. I love chips. If she sees me eating too many, she'll go, "I cut some strawberries, what about some strawberries?"
Gabriella is well on her way to becoming an elite pairs figure skater — like her mom. What does that mean to you?
It's fantastic. I consider myself blessed to be here and see her growing up into a wonderful young woman. I know that no matter what life throws at her she's going to thrive.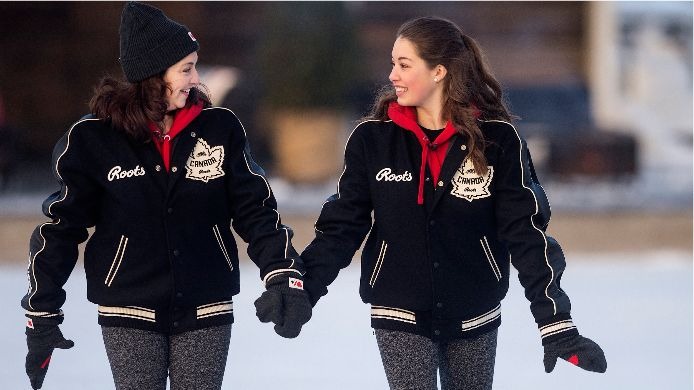 Isabelle skating with her daughter Gabriella.

Why is Heart & Stroke research important to you?
Thirty, 40, 50 years ago we didn't have the resources to support the research that we do now. When I teach figure skating, I always say, some kids may learn just one thing from me but if I've made their life that much better with just that one thing, I will have done my job. It's the same with Heart & Stroke. If with my support I save one life, I will be able to say that I've helped people around me. I've helped the next generation.
How important are donors to funding research?
I strongly look up to all the people that encourage any type of research. My illness is not an easy one to diagnose. Maybe the Heart & Stroke donors who came before me made it possible to test for this disease. I can thank them for that. Heart & Stroke touches my life, my family personally. I have a heart condition and I've lost people that I love. I would have loved to have them around for many more years and share many more memories.