In 2004, Dr. Susanna Mak got her dream job: cardiologist at Mount Sinai Hospital in Toronto, with a faculty appointment at the University of Toronto. But what she didn't realize was how tough it is to balance research and patient care, time and money — not to mention work and family responsibilities.
Her main source of income was the time she spent treating patients — not doing the research that was her passion. "If you decide to commit three days a week to do your research, you have to earn your living and support your family seeing patients two days a week," says Dr. Mak. "The academic hospitals do provide support, but it's not always enough."
Just a year or so into her job, she secured two grants from Heart & Stroke. One funded a study on sex differences in heart function — a topic she continues to investigate today. The other was a personnel award for early-career researchers, providing five years of salary support to pursue research.
"I could not have done my first published paper without that kind of support," says Dr. Mak. Publishing is a key marker of research success, and the salary support allowed her the time to make it possible.

I could not have done my first published paper without that kind of support.
When the salary grant ended, Dr. Mak had to find a way to keep her lab open and continue her quest — including paying her research administrator and keeping her graduate students working on research projects.
"This is why a lot of people will leave science. Like a lot of women. I've been close to leaving many, many times," she says. "I'm glad I've stayed with it, but it takes a lot of work to keep my program going."
Building a career
Since her research already had a solid foundation, Dr. Mak was able to push on. She collaborated on more studies, went for bigger grants and did some work with applications in industry.
Her efforts and success as a clinician and a researcher did not go unnoticed. She was promoted into roles that paid her a salary — directing clinics at the hospital and, in 2019, becoming the first woman division director for cardiology at the University of Toronto.
Dr. Mak's story illustrates how early funding from Heart & Stroke helps build careers — a result backed up by a recent Heart & Stroke survey of researchers who received early-career funding between 1998 and 2010.
Over this period, Heart & Stroke donors funded more than 1,100 early-career awards totalling $31 million — support that helped researchers do the work they love. Heart & Stroke found that 80% of those recipients stayed working in research, 70% have remained in Canada, 96% are working in health and, of those who are working at universities, 90% have permanent faculty positions.
80 %
of early funding recipients say it helped build their careers.
30%
would have abandoned their research careers without early funding support.
96 %
continue to work in the health field.
Importantly, more than 80% of survey respondents credit early Heart & Stroke funding with building their careers by helping them secure other funding, complete their research training and get published.
When researchers like Dr. Mak can build stable careers, they can develop a research program that leads to innovation and better heart or brain health. Dr. Mak continues to receive research funding from Heart & Stroke donors; with her latest grant, she'll build on her foundational work, fine-tuning a better test for pulmonary hypertension that people can experience during exercise.
Supporting the next generation
Dr. Mak also makes time to mentor and collaborate with researchers who are starting out.
One of them is Dr. Carolina Alba, a cardiologist at Toronto General Hospital and assistant professor at the University of Toronto. Like Dr. Mak before her, Dr. Alba has a Heart & Stroke salary support award, plus she's working on a Heart & Stroke-funded project looking at heart failure outcomes.
"We are using data and predictive analytics to estimate patients' risk of dying," she says. The goal is to better predict which patients will do best with interventions including a heart transplant or artificial heart.
Balancing the demands of her many jobs is a challenge: her patients come first, and they can call at all hours. Dr. Alba also teaches at the University of Toronto and McMaster University. Plus she has her research program. "I work a lot!" she admits.
Now, Dr. Alba and Dr. Mak are collaborators, studying how outcomes in patients with heart disease are connected to functioning of the right side of the heart.
Dr. Alba turns to her more senior colleague for advice. "I feel like I can go to her and have a really frank conversation. She's very busy but she always makes time. She makes you feel like she has all the time in the world when you are with her."
Supporting this kind of collaborative ecosystem for researchers is another benefit of Heart & Stroke early-career funding. When newcomers feel supported and can build their careers, they become leaders in turn. The result is important health innovations that benefit us all.
More researchers share the impact
Dr. Bruce Allen, Montreal Heart Institute: I have been fortunate to have been supported by Heart & Stroke for most of my career. In 1999, I was awarded a prestigious New Investigator Award from the foundation. As a research scientist at the Montreal Heart Institute, a national award such as this was key to my retaining my position, building up the lab, and continuing our research into the role of cellular signaling in heart disease.
---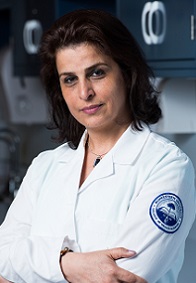 Dr. Mitra Esfandiarei, Midwestern University, Arizona: My journey with Heart & Stroke started during my first year of doctoral training at the University of British Columbia, when I received a junior graduate award. As a new immigrant to Canada facing uncertainty about my education and career plans, I was so excited to receive this amazing gift, which helped me focus on my studies while raising my child without worrying about the financial needs of my family. In addition, the award gave me the recognition and most importantly the confidence I needed to continue my graduate studies and make significant progress in my training. Later, I was fortunate to receive the prestigious Heart & Stroke/Astra Zeneca postdoctoral fellowship and was named the Lewis MacDonald Research Fellow by the Heart & Stroke Foundation of BC & Yukon in 2007.
Looking back, I feel pride in these honours and consider myself very fortunate to have participated in Heart & Stroke fundraising events and campaigns to increase awareness and improve the well-being of Canadians. I will always be thankful for the generous support.
---
Dr. Marilyn McKay-Lyons, Dalhousie University: In 1996, I received a Doctoral Fellowship in Cardiovascular and Cerebrovascular Research from Heart & Stroke. This fellowship facilitated my ambition to pursue a PhD in physiology and become a stroke rehabilitation researcher – a position I continue to enjoy some 25 years later. Equally important, receiving the fellowship validated the importance of my quest to investigate strategies to optimize stroke recovery. As a physiotherapist entering the challenging world of health research, such confirmation fuelled my determination to succeed and to give back to Heart & Stroke.
---
Dr. Sarah Childs, University of Calgary: Heart & Stroke supported me through a Scholar award from the start of my position at the University of Calgary, and I have held several Heart & Stroke grants. I have also sat on grant review panels and participated in Heart & Stroke research events and lab tours. The funding has allowed me to develop my research directions in understanding vascular stabilization and its role in stroke using the zebrafish model, but with direct applications to humans. I have also been understanding vascular malformations, their origin and potentially their treatment. One of the strengths of Heart & Stroke is the ability to connect researchers with public outreach. I have very much enjoyed meeting donors and volunteers and showing them how basic research in vascular biology can transform into insight and hopefully treatment for human stroke and vascular disorders.