Julie Tomaino, was a fit, healthy 38-year-old choreographer and dance instructor when she suddenly experienced tears in both of her inner carotid arteries, resulting in a massive stroke on both sides of her brain.
She experienced "locked-in syndrome" for over a week — she was not able to move any part of her body except her eyes, make sounds or react to anything. Where most people would panic in this situation, Julie describes it as a peaceful time when she knew her body needed to rest and heal. This strength and resilience served her well and eventually she was able to transfer to the Toronto Rehabilitation Institute for more intense rehabilitation therapy.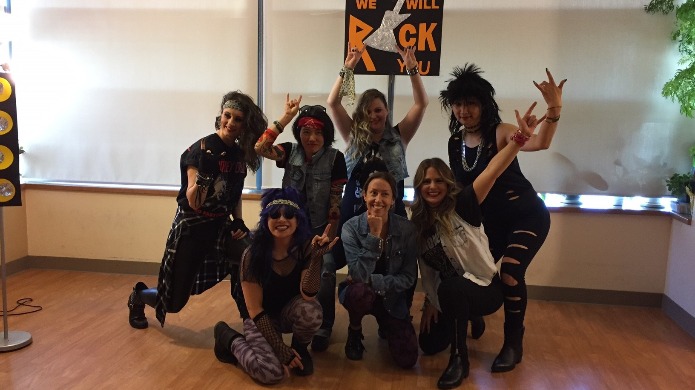 Julie (centre) and dancers in costume for their "We Will Rock You" performance.
On arriving, Julie was clear about her goals: "I am a dance teacher and choreographer; I want to get back to that." Her therapy team responded: "Ok, we can be your dancers." And just like that, the student became the teacher, and dancing became part of her therapy.
At first, Julie recalls, "I was talking slowly, one word at a time. I wanted to jump, I knew what a jump was but I could not get my feet off the floor." All aspects of her therapy — speech, physical and occupational — were integrated into planning and organizing a dance to Queen's hit "We Will Rock You," which was performed for an audience.
Dance as rehabilitation
Dance has unique potential for stroke rehabilitation, according to Dr. Kara Patterson, whose research is funded by Heart & Stroke donors. Dance is not just a form of exercise but also helpful for neuroplastic change — the ability of the brain to re-organize itself by forming new connections — as well as for balance, memory and more.
Dance helps increase the ability to move and keep balance.
Dr. Patterson and her colleague Dr. Dina Brooks are studying whether dance can improve balance and walking for people following their stroke, as well as boost confidence and decrease feelings of social isolation, leading to improved overall quality of life.
"Dance helps increase the ability to move and keep balance and an increase in skills equals an increase in confidence. One woman I worked with related that she now has the confidence to go out more on her own and even take the subway," says Dr. Patterson. "Others have expressed their appreciation for the classes because they felt they were participating as dance students, not as people who have had strokes."
If the study shows a positive impact from dance classes, the next step will be to determine how programs can be set up in the community where stroke survivors can participate.
Julie Tomaino is back to being a choreographer full-time, working on several productions, but she has scaled back her schedule and brought more balance to her life.
The notion of balance infuses her message for other women recovering from stroke: "My biggest message is you have to do the work. No one can do that for you. But also take the time that you need. Only in the time you give yourself can you give back to others — you have to take care of yourself first."