Life is precious. Treat yourself, a loved one or a teacher with this year's bracelet! This Stroke Month, help Heart & Stroke create more moments for more stroke survivors.
For the second year, Jean Coutu is partnering with Heart & Stroke and Rythme FM for A jewel of life, a campaign of hope to tangibly improve the life of thousands of people in Quebec.
Date: from June 1 to 30 only
Colors: red jade, black agate and grey jasper
Price: $10 plus tax
Where: at every Jean-Coutu location in Québec: prescription counter
Hurry up, quantities are limited!
Help us create more moments
The campaign aims to raise awareness about the FAST signs of stroke and funds to generate the next research breakthroughs.
Josée Boudreault, a spokesperson with heart!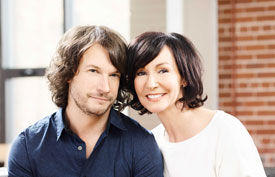 A few words from Josée:
"My boyfriend is writing this for me because in July 2016, a blood clot in my brain stole all my words. It took the names of my daughters – names that I chose with so much love and care. It took my best stories, the ones I loved to tell again and again and again.
But the clot didn't steal my spirit, my sense of humour, my positivity or my motivation. By supporting the cause, you aren't just helping others. You're helping yourself, too, because nobody is safe from cardiovascular disease. I can tell you that I certainly never expected to have a stroke, let alone two; I experienced a second one in September 2017.
You only need a heart to be at risk of cardiovascular disease, and supporting the cause proves you indeed have a big one. Thank you!"
Thank you to our partners