Geneviève Morel, 26, was six months pregnant; everything was going smoothly. She even had a photo to prove it. After completing a 24-week ultrasound, Genevieve carefully taped the photo showing a healthy baby next to her bed.

Geneviève was at home in Laval Que., on March 31, 2013 with her partner, Jonathan, when she suddenly collapsed to the floor, clutching her head in her hands.

"Lightning exploded in my head. My left side felt paralysed," Geneviève recalls.

Amid her panic, Geneviève realized that she was having a stroke. Jonathan, who had heard the commotion, immediately realized something was seriously wrong and called 9-1-1.

In a few minutes, Geneviève recalls her street was lit up in yellow, red and blue and neighbours coming out to see what was going on. Geneviève struggled as paramedics tried to put her into an ambulance and rushed her to l'Hôpital de la Cité-de-la-Santé in Laval.

The emergency room doctors placed Geneviève into an induced coma to reduce brain swelling and protect her brain from damage. While they imaged her brain, doctors detected a cerebral hemorrhage (stroke) that was growing at an alarming rate.

"It was inconceivable for a 26-year-old pregnant woman. Both our lives were in danger — mine and my baby's," says Geneviève.

Geneviève was transferred to the neurosurgery department of l'Hôpital Notre-Dame.

At 4:15 am – five hours into the ordeal – a doctor approached Jonathan and asked him to make an unthinkable decision. Geneviève was about to undergo a series of high-risk tests. If things went wrong, the medical team would only be able to save one life: Geneviève's or her unborn son's.

Horrified, Jonathan decided Geneviève's life had to come first.

The surgery lasted five hours. At 11 a.m. a doctor emerged from the operating room and spoke to Geneviève's family. Geneviève had sustained brain damage and her left side was paralyzed. But her unborn baby seemed unharmed.

When stroke occurs as a complication of pregnancy, the impact on the mother, child and families can be devastating.
"His little heart was still beating. That was all that mattered," she says.

The month following the surgery remains a blank for Geneviève.

"I don't remember anything from the month after. I was in bed, a prisoner in my body. Part of my skull had been removed; replacing it would require another operation with general anesthetic — too risky during my pregnancy."

Geneviève was transferred back to l'Hôpital de la Cité-de-la-Santé two weeks later and then to the Jewish Rehabilitation Hospital.

"That was a difficult period when I started to realize the state I was in. I remember the first time my left shoulder moved. It was the beginning of May. That was a real moment of hope — I saw it in the eyes of my father, of Jonathan and even the doctor."
 I was beginning to understand that my life was changed forever.
Over the next few weeks, Geneviève experienced more small victories. She succeeded in sitting in a wheelchair with assistance, and she learned how to feed, wash and dress herself using her right hand. But many of the basics had to be relearned. "It was a serious blow to my pride when I realized I did not know the answer to 8 x 2. I cried like a baby in front of the other patients. I, who had a college diploma and a career as a youth worker… I was beginning to understand that my life was changed forever."

Geneviève's ordeal was far from over. Just two months after her surgery, doctors found that cerebrospinal fluid had built up to dangerous levels in Geneviève's head. They decided to risk a second surgery while she was still pregnant. She returned to l'Hôpital Notre-Dame by ambulance.

"At that point I was ready to give up," she says. "I cried so much and I was afraid of what would happen. I was exhausted from all the treatments and therapy; I just wanted to rest."

During the operation the surgeons replaced the missing part of Geneviève's skull. She woke up to an indescribable, splintering pain in her head. Unable to receive a full dose of morphine because of her pregnancy, Geneviève was forced to go without it and endure the pain.

Three weeks later, Geneviève returned to the Jewish Rehabilitation Hospital for more physio and occupational therapy. "I didn't sleep at night. I was exhausted with chronic fatigue, a common effect of stroke and impatiently waiting to give birth."
30 out of 100,000 
women will experience a stroke during pregnancy. 
On June 28, full of joy and nerves, Geneviève gave birth to a boy, Nathan, through caesarean. He was healthy.

The months following would be full of new challenges and difficult days, as well as tension between Jonathan and Geneviève.

"We were overwhelmed and we needed help. We also experienced beautiful, unforgettable moments—that's what I remember. Jonathan had to take over my role as mother because I wasn't functioning independently. He was living the life of a single parent, caring for a newborn as well as a person with disabilities. He took up these challenges beautifully."
The cause of Geneviève's stroke remains unanswered. Her experience, however, isn't rare.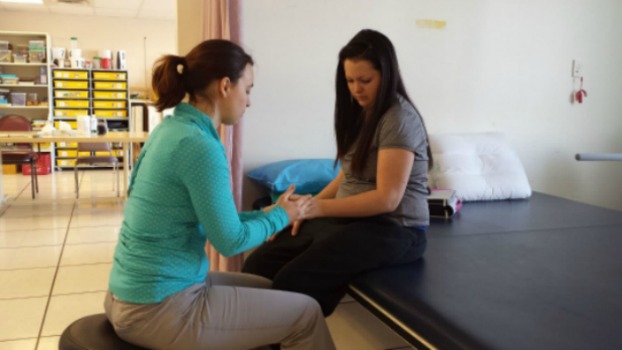 Geneviève in rehabilitation three months after her stroke.
Stroke pregnancy link
Stroke during pregnancy is more common than originally thought, according to a Canadian study published in the International Journal of Stroke and co-funded by Heart & Stroke donors.
Recent research indicates that roughly 30 out of 100,000 women will experience a stroke while pregnant. The highest risk occurs during the periods just before or following birth.

"Pregnancy can affect vascular risk factors, like diabetes or blood pressure, but many people don't recognize there is an increased risk of stroke," says study co-author Dr. Rick Swartz, stroke neurologist; medical director North East GTA Regional Stroke Program, director of the Stroke Research Unit at Sunnybrook HSC, and assistant professor, Department of Medicine, University of Toronto.
"Stroke is a leading cause of death and disability in adults and when stroke occurs as a complication of pregnancy, the impact on the mother, child and families can be devastating."

What precisely causes stroke risk in pregnant women to be three times higher than it is for young adults requires more study. However, early findings suggest hormonal changes and certain conditions like preeclampsia may increase risk. The condition — a sudden onset of high blood pressure — can be potentially life-threatening for moms-to-be and their babies if left untreated. High blood pressure is the number one risk factor for stroke but it can be managed. Eating healthy, being active and managing stress can help reduce risk.

Women who have had a stroke prior to becoming pregnant should also work closely with their healthcare provider to monitor risk factors such as pre-eclampsia, blood pressure and blood sugar carefully.

"All pregnant women are at a low, but increased risk of stroke," says study co-author Dr. Patrice Lindsay, director of stroke, Heart & Stroke. "While all pregnancy-related stroke risk cannot be eliminated, there are things women can do to decrease their risk, including following a healthy diet, being physically active and smoke-free, managing blood pressure and stress and limiting alcohol consumption."
New beginnings
Less than a month after giving birth to Nathan, Geneviève began a new outpatient rehabilitation program.

"I made enormous progress in these months thanks to willpower, perseverance and all the people around me who fought so hard to help me bring out the best in myself," she notes. "I learned to trust myself, and that was the greatest gift I could receive."

Geneviève made a point to add exercise and nutrition to her routine. "I have changed my lifestyle and I have high hopes for the future. It's partly thanks to Heart & Stroke that Nathan and I are alive today. Research into new technologies played a major role in my surgeries and rehabilitation. Even though my partial paralysis is always there, I know nothing is impossible."
Help us close the research gap.