It's never too late to build a legacy. At 101 years old, Rose Jarman is taking action to help the next generation.
"Heart & Stroke research has given me a lifetime of living," says Rose. The Saskatoon resident has had three heart attacks, and credits advances in research with saving her life each time. Now, Rose's decision to become a Legacy donor will help others benefit from future life-saving research. "The world is changing and we need to keep up with change and medical research," she says. "Our younger generation needs to be prepared and educated."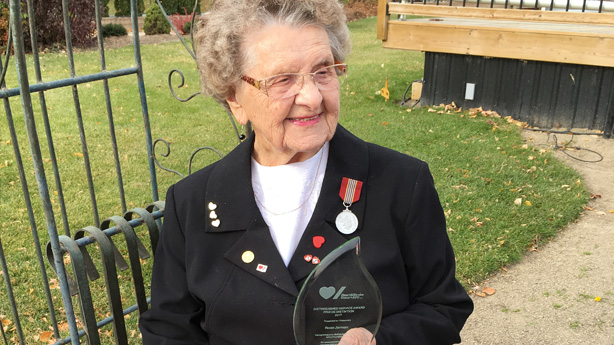 Rose Jarman with the Heart & Stroke Distinguished Service award, which she received in 2017.
By including a future gift in her Will, Rose is building on an incredible volunteer commitment to Heart & Stroke. For more than 50 years she has canvassed to raise funds during our February Heart Month campaign.
For Rose, who was born the ninth of 12 siblings on a Saskatchewan farm, family has always been important.
In 2004, Rose's second husband, George, died of a stroke. A year later her beloved son, Zenon, died from cancer at the age of 56. Investing in tomorrow's breakthroughs, Rose says, helps research continue, but it's also a positive way to ensure the memories of her loved ones carry on.
"I can't express in words what Heart & Stroke means to me. I'm glad that when I leave this earth young people will be educated with research."