"All of a sudden, I feel dizzy," declared Jennifer Potiuk as she inched her car along the McDonald's drive-through lane near her home in Colwood, just outside Victoria.
"Are you joking?" asked her nine-year-old daughter, Sasha, in the passenger seat. It was Feb. 2, 2016, and both were hungry after a long and stressful day. Jennifer had been consulting with patients about gastrointestinal screening, while Sasha had been at school and after care. An easy dinner of burger and fries was all they wanted.
Jennifer was not joking about the dizziness. And as the 43-year-old nurse turned to her daughter, it appeared half her face was melting.
"Are you OK? Are you OK?" Sasha asked, panic rising in her voice. Jennifer couldn't answer.
A medical emergency
The car was already at the food window and with her right hand, Jennifer somehow managed to get the bag of food and pay for it. Still vaguely aware of her surroundings, she turned the car slowly into the restaurant's parking lot.
Jennifer knew she was having a medical emergency. She reached her right hand into her purse and handed her cellphone to Sasha.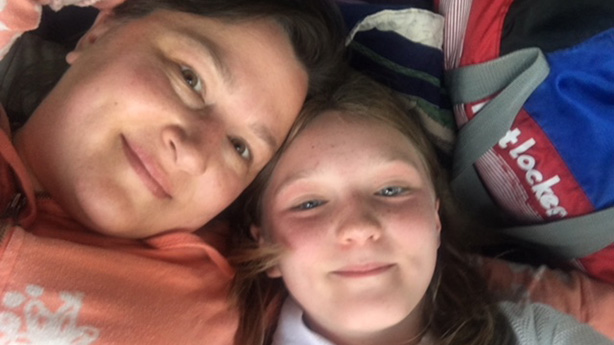 Jennifer (left) and Sasha at home.
The young girl had been sobbing but realized she had to calm down. Sasha dialed 9-1-1 and forced herself to speak clearly. "My mom's acting really weird."

The operator asked some questions. Meanwhile Jennifer was slurring words, trying to yell out their home address. "Don't listen to her; we're not at home," Sasha told the operator.
A parking lot rescue
When the ambulance arrived, Sasha got out of the car and waved it over. Jennifer opened her car door, then fell to the ground. Seeing her mom so helpless was the scariest moment for Sasha.

The paramedics quickly put Jennifer on a stretcher and the ambulance was soon en route to Victoria General Hospital, with Sasha on board too.

At the hospital Jennifer was whisked off to get a CT scan while Sasha waited in a supervised children's waiting room. The scan showed Jennifer was having a stroke; a clot was blocking vital blood flow to her brain. Doctors determined that she could safely receive alteplase (tPA), a clot-busting drug that can reduce the severity of a stroke and even reverse its effects if it's administered within 4½ hours.

Sasha's father, Dustin Potiuk, soon arrived and they both got to see Jennifer and speak to doctors. Within about two hours, the stroke symptoms had disappeared and Jennifer was moving and speaking normally.

Jennifer was discharged within a few days and sent home with medications, including a blood thinner and blood pressure medication. She was exhausted at first, but went back to work after two months.
Recovery and beyond
"I'm exercising for an hour a day and I'm eating healthier," says Jennifer of her lifestyle changes. "I've even lost some weight."

The quick actions by mother and daughter likely led to Jennifer's strong recovery.

"With stroke, fast action is critical," says Dr. Patrice Lindsay, director of stroke for Heart & Stroke. "By staying calm and calling 9-1-1, Sasha helped her mom get the treatment she needed quickly. Stories like this remind us that everyone should know the signs of stroke and the importance of calling 9-1-1 as soon as any signs appear."

Recovering from this emergency has been about focusing on Sasha. Mother and daughter have both visited a counsellor to talk about the trauma of that day. Dealing with kids at school has been tough for Sasha; her friends had a lot of prying questions.

Now Sasha can see how poised she was that day. "Looking back, I was brave. I'm proud of myself."