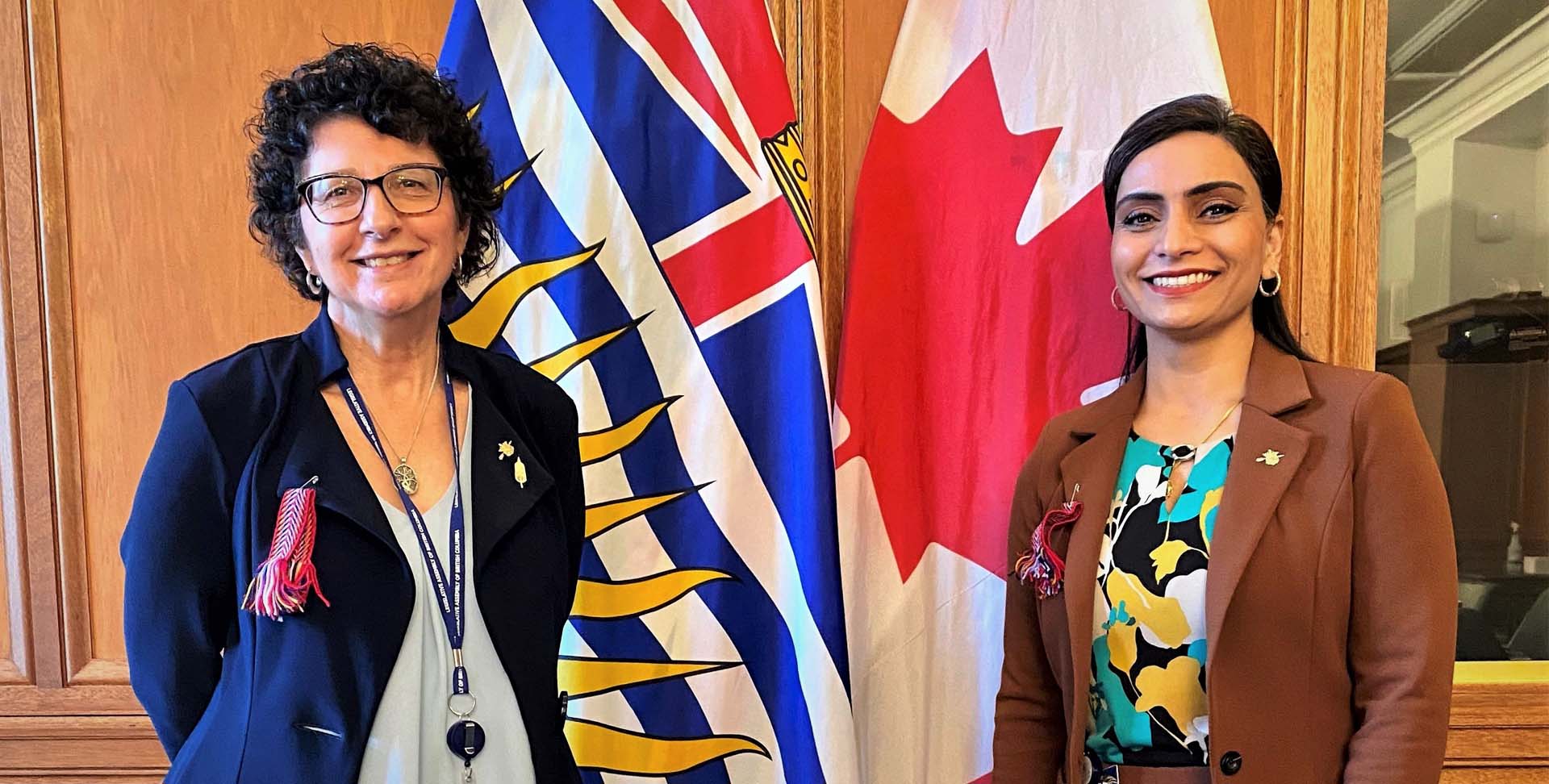 Stroke
BC politician spots her colleague's stroke
Rookie MLA knew signs of stroke – and jumped into action when it counted
Chapter 1
Subtle signs
On Sept. 21, 2021, Pam Alexis, was getting ready to attend a pre-budget public consultation committee meeting. The rookie MLA felt a bit off — dropped her shampoo in the shower, felt slightly dizzy and her eyes were bothering her. But that didn't stop her; she headed out for the busy day ahead.
In the meeting at a Vancouver hotel, Pam sat beside Harwinder Sandhu, another new MLA who had been a registered nurse prior to the election. Harwinder noticed Pam wasn't quite herself, so she kept an eye on her. Although Pam was speaking well and was clearly engaged, Harwinder noticed some subtle signs. Eventually she convinced Pam to step into the hallway so she could give her a quick check.
Chapter 2
An emergency
Harwinder suspected Pam was having a stroke. She asked hotel staff to call 9-1-1 and the dispatcher asked them to monitor and call back if symptoms worsened. And they did — Pam became confused and unable to stand; her left side was paralyzed. They called 9-1-1 again and insisted an ambulance was needed right away.
Healthcare professionals would rather you call 9-1-1 and end up being discharged than if you wait too long with your symptoms.
Pam was eventually diagnosed with a bilateral thalamus stroke, a rare form of stroke that happens deep in the brain so is more difficult to detect. She remembers very little of the next 24 hours. When she woke up the next day, she was intubated and couldn't speak, but her son was there. He told her, "You're gonna be all right Mom, you're gonna be all right."
Doctors determined Pam's stroke was caused by atrial fibrillation, a heart rhythm disorder that can cause blood clots which can travel to the brain. Pam says the medical team at Vancouver General Hospital was amazing. "But I had to get there to receive that exceptional care, and that's because of my guardian angel, Harwinder," she says.
Chapter 3
Taking action
Harwinder's medical background enabled her to suspect a stroke earlier than most people would. And she had to be firm but gentle in insisting Pam go to hospital.
Harwinder stresses it's important to act fast if you suspect a stroke — even if you're not sure. "I can assure you healthcare professionals would rather you call 9-1-1 and end up being discharged than if you wait too long with your symptoms and end up with a bad outcome," she explains.
Remarkably, Pam was discharged after just four days, and three weeks later she started back to work — at first virtually, but now she is back at the Legislature. "This experience has left me with such an incredible sense of gratitude — for our exceptional healthcare professionals, and for my friend Harwinder," she says.
All of us can do what Harwinder did, and be a part of saving a loved one, a colleague or a stranger. It starts with learning the signs of a stroke. If you see any one of these signs, it's critical to call 9-1-1 right away.
Stroke is a medical emergency. If you experience any of these signs, call 9-1-1.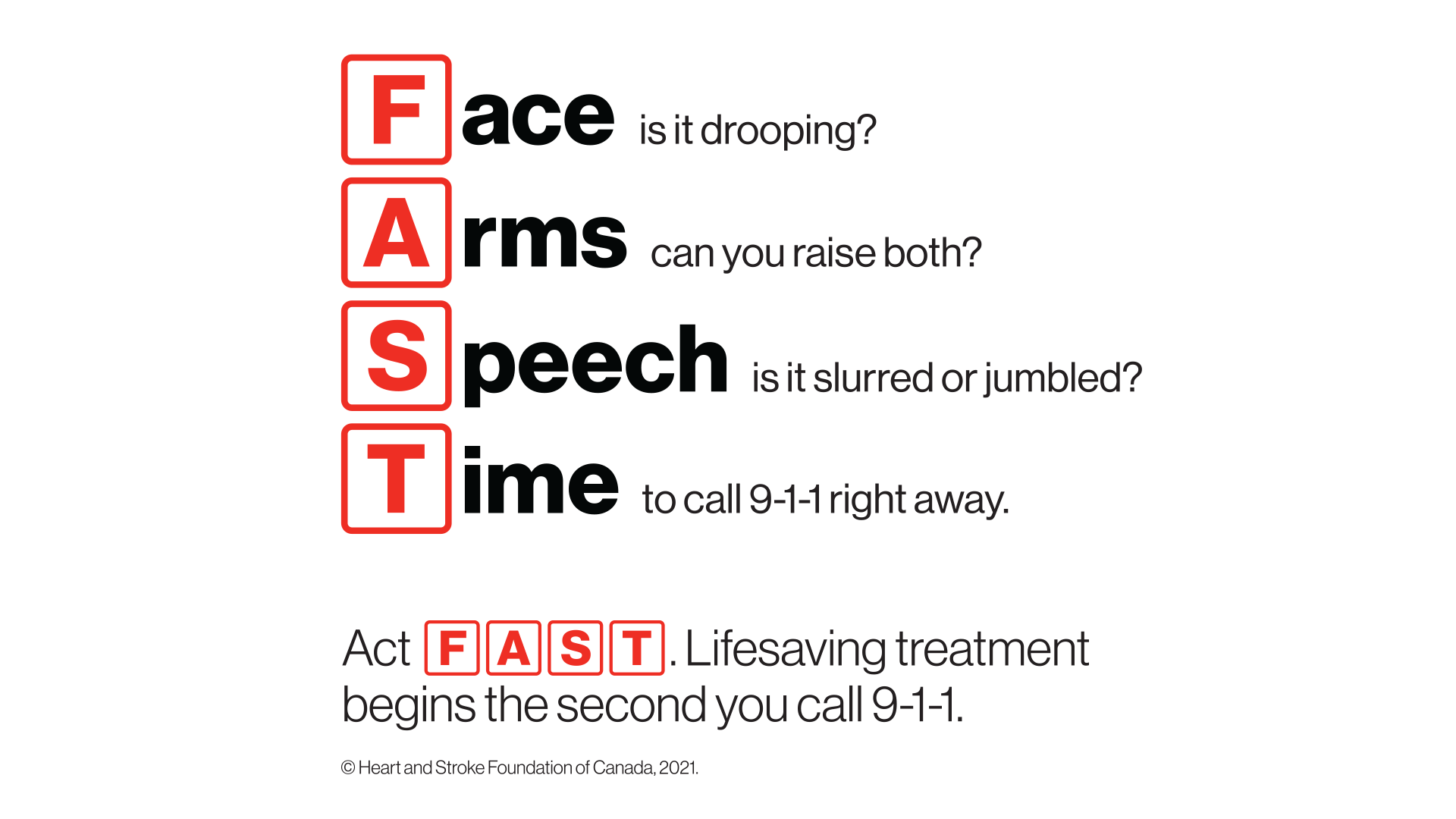 More signs of stroke
The FAST signs are the most common signs of stroke and are more likely to be caused by stroke than any other condition. There are other signs of stroke that are less common, including:
Vision changes: blurred or double vision
Sudden severe headache: usually accompanied by other signs
Numbness: usually on one side of the body
Problems with balance
Learn more about the FAST signs of stroke.