A stroke happens when blood stops flowing to any part of your brain, causing damage to the surrounding brain cells which can't be repaired or replaced. You lose an estimated 1.9 million brain cells every minute after onset of a stroke.
A stroke happens every nine minutes in Canada. When you get the right treatment quickly, the effects of a stroke can be minimized or even reversed. Without treatment, stroke can cause mild to severe disability — even death.
More than 400,000 Canadians live with the effects of stroke.
Stroke can strike at any age, but occurs most frequently in the elderly. While we have come a long way in prevention and treatment, our aging population means the number of Canadians living with stroke is expected to almost double in the next 20 years.
That's why Heart & Stroke has identified stroke as one of six disease areas where we see the greatest potential for impact (scroll down to learn more). The opportunities range from developing new solutions to diagnose, prevent and treat stroke, to advancing stroke rehabilitation and helping families living with its effects.
Council will guide action
The Heart & Stroke stroke council — half researchers and half community members — bring a range of backgrounds including lived experience of dementia or other cognitive problems (either themselves or in a loved one), policy, technology, philanthropy, and health care.
The group, led by two co-chairs, also reflects geographical representation (rural vs urban and provincial/regional), cultural diversity and first language (English/French). Additional considerations for research members included career stage, research focus and research/work setting, while occupation and specific skillsets were considered for community members.
Starting in January 2018, they will spend two years considering priorities and opportunities in preventing, treating, managing and recovering from stroke.
Their knowledge and input will guide Heart & Stroke in determining how we can deliver the greatest impact for Canadians living with stroke, and their families.
Meet our co-chairs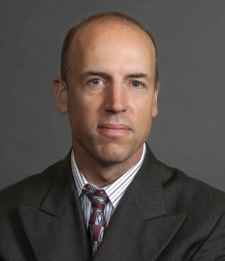 Dr. Michael Hill, research co-chair: Dr. Michael Hill holds the Heart & Stroke professorship in stroke research at the University of Calgary and is director of the stroke unit for the Calgary Stroke Program. He is a renowned stroke researcher and neurologist, and recently led an international clinical trial that has revolutionized treatment for major strokes.
Mike is dedicated to improving treatment and giving people living with stroke the best hope for a bright future. He is a dedicated mentor for teams working in the field of stroke, committed to reducing time to treatment, to minimize the impact of stroke on Canadian families. Mike brings an incredible breadth of leadership, passion and expertise to the stroke council.
Mr. Rick Adams, community co-chair: Rick Adams is executive director of quality and safety at Health PEI. A chartered accountant, Rick also holds an MBA in health care administration and organizational development/leadership and a diploma in health administration. Rick has served as executive director of Queen Elizabeth Hospital and Community Hospitals East, and as chief financial officer and director, corporate services for the former Queens Health Region.
In addition to his stellar professional background, Rick has also had a stroke himself. With his lived and professional experience, Rick offers valuable perspective and leadership to the stroke council.
Members
Mr. Jean-François Bélanger (Que.): chemist; pharmaceutical and medical devices expert; stroke survivor

Dr. Louise Clément (Ont.): Health Standards Organization (HSO), Accreditation Canada, executive director, Health Education Assessment and Clinical Partnerships; member, Canadian Stroke Best Practices advisory committee
Dr. Dale Corbett (Ont.): scientific director, Heart & Stroke Canadian Partnership for Stroke Recovery, researcher, Cellular and Molecular Medicine, University of Ottawa
Dr. Thalia Field (BC): stroke neurologist, Vancouver Stroke Program; University of British Columbia; member, Canadians Stroke Best Practice Recommendations writing group
Dr. Barry McLellan (Ont.): executive-in-residence, faculty of medicine, University of Toronto; past president/CEO, Sunnybrook Health Sciences Centre
Dr. Patricia Petryshen (Ont.): epidemiologist; health systems executive; nurse scientist; stroke caregiver
Ms. Heather Purvis (Man.): registered nurse; patient representative, CancerCare Manitoba; stroke survivor
Ms. Pam Ramsay (BC): executive director, Lower Mainland Pathology and Laboratory Medicine; Provincial Health Services Authority
Dr. Annie Rochette (Que.): researcher, Centre for Interdisciplinary Research in Rehabilitation (CRIR) of Greater Montreal; School of Rehabilitation, Univ. of Montreal; lead, StrokEngine.ca; occupational therapist
Dr. Mike Sharma (Ont.): stroke neurologist; chair, Canadian Stroke Consortium; researcher, Population Health Research Institute, McMaster University
Ms. Donna Sharman (Alta.): peer supporter for stroke survivors and their families; stroke survivor
Dr. Andrew Travers (NS): emergency physician, researcher; medical director, Emergency Health Services Nova Scotia
About Heart & Stroke mission critical areas
Heart & Stroke has adopted a new framework that will drive progress in what we are calling mission critical areas or MCAs. These are the six heart and stroke disease states that together represent the biggest burden — on Canadians' health, on the economy and on society.
The MCAs are not the only areas where Heart & Stroke works, but they reflect where we believe we can have the greatest impact. The six MCAs are:
The work of our six MCA councils will also feed into a strategic planning process underway at Heart & Stroke, to determine our direction as an organization.
More information