Curried chicken salad in crisp wonton cups
Aromatic chicken salad, studded with sweet grapes and crunchy almonds makes for an appetizer that has a huge wow factor but is surprisingly easy to make.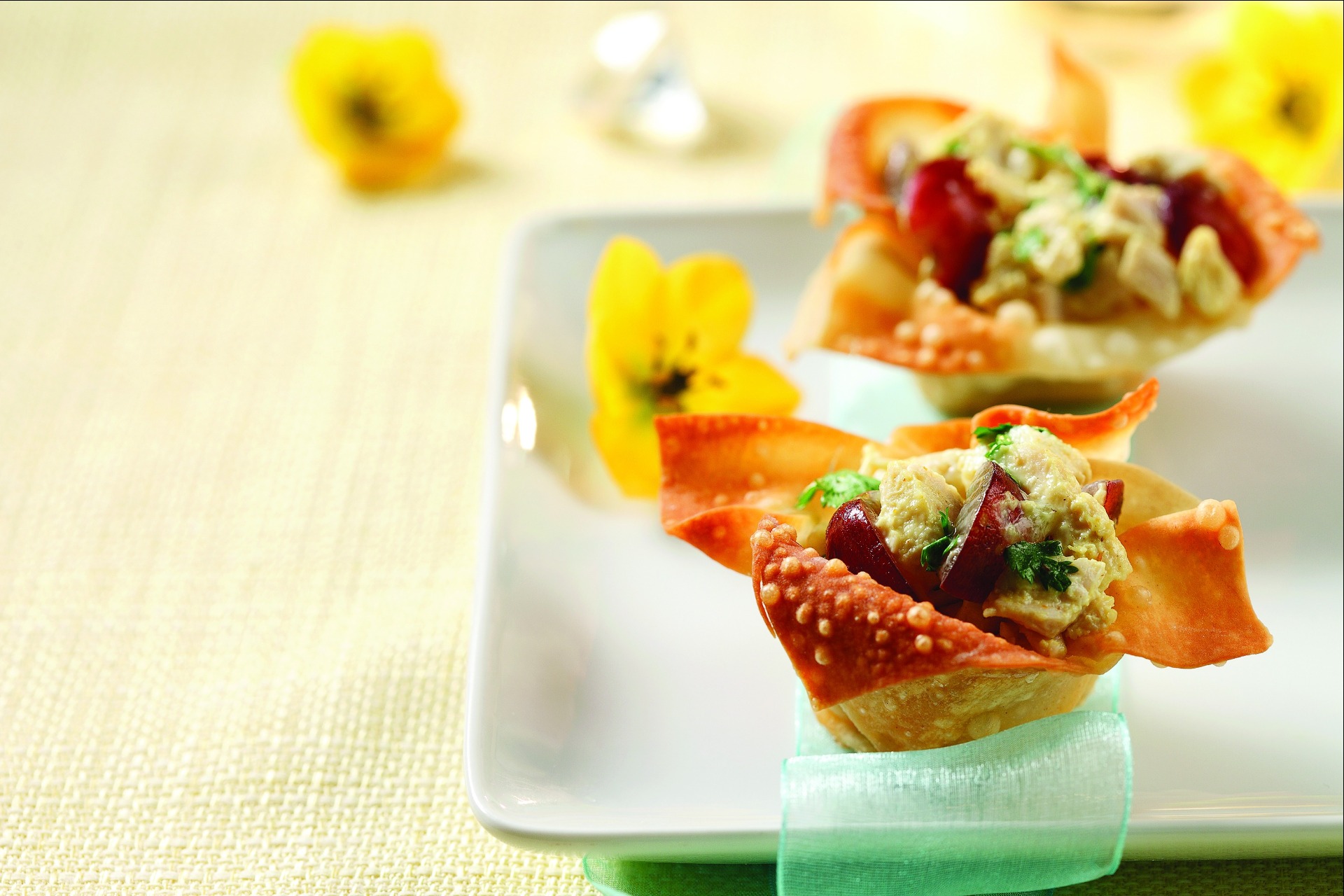 Directions
Step 1

Preheat oven to 375 °F (190 °C). Coat two mini-muffin tins with cooking spray.

Step 2

Brush both sides of wonton wrappers with canola oil and place each wrapper in section of mini-muffin tin. Gently press each wrapper into tin and arrange so it forms cup shape. Wrappers will stick up out of cups. Bake until browned and crisp, 8 to10 minutes. Allow cups to cool, then remove from tins. Cups can be prepared up to two days ahead and stored at room temperature in airtight container.

Step 3

In medium saucepan, bring broth and water to boil. Add chicken to broth and simmer on low, covered, for 8 minutes. Turn heat off and let chicken stand in cooking liquid, covered, until cooked through, 10-15 minutes. Remove from broth and chill completely. Then cut into 1/4-inch (0.6-cm) dice.

Step 4

In dry skillet, toast almonds over medium-high heat, stirring frequently until golden and fragrant, 3-4 minutes. Set aside to cool.

Step 5

In medium bowl, whisk together yogurt, mayonnaise and curry powder until combined. Stir in chicken to coat. Add almonds, grapes and chopped cilantro and toss to combine. Chicken salad can be made up to one day ahead and stored in airtight container in refrigerator.

Step 6

Fill each cup with heaping tablespoon of chicken salad, then garnish each with whole cilantro leaf. Serve immediately after filling.
Tips
Alternatively, you can start with 1 1/2 cups (375 mL) diced, cooked chicken instead of the chicken breast, broth and water and omit step 3.

*To reduce fat content, omit almonds and step 4.
Nutritional information
Per serving (2 filled wonton cups)
Total fat

8 g

Saturated fat

1 g

Cholesterol

40 mg

Carbohydrates

10 g

Fibre

0 g

Sugars

0 g

Added sugars

0 g