When Anna Kunz was pregnant with her second child she was looking forward to many milestones. Open heart surgery was never one of them. 
Nothing could have prepared Anna and her husband, Regan,for the news that their son, William, was born with a hole in his heart.
Their ordeal began when William was 10 months old. His family doctor detected an unusual heart murmur during a regular checkup. After several tests, doctors found that his heart wasn't pumping blood the way it should.
In addition to the hole, called an atrial septal defect, at least one of William's veins is pumping blood into the wrong chamber of his heart. The condition, known as partial anomalous pulmonary venous connection (PAPVC), places extra stress on his developing heart and lungs.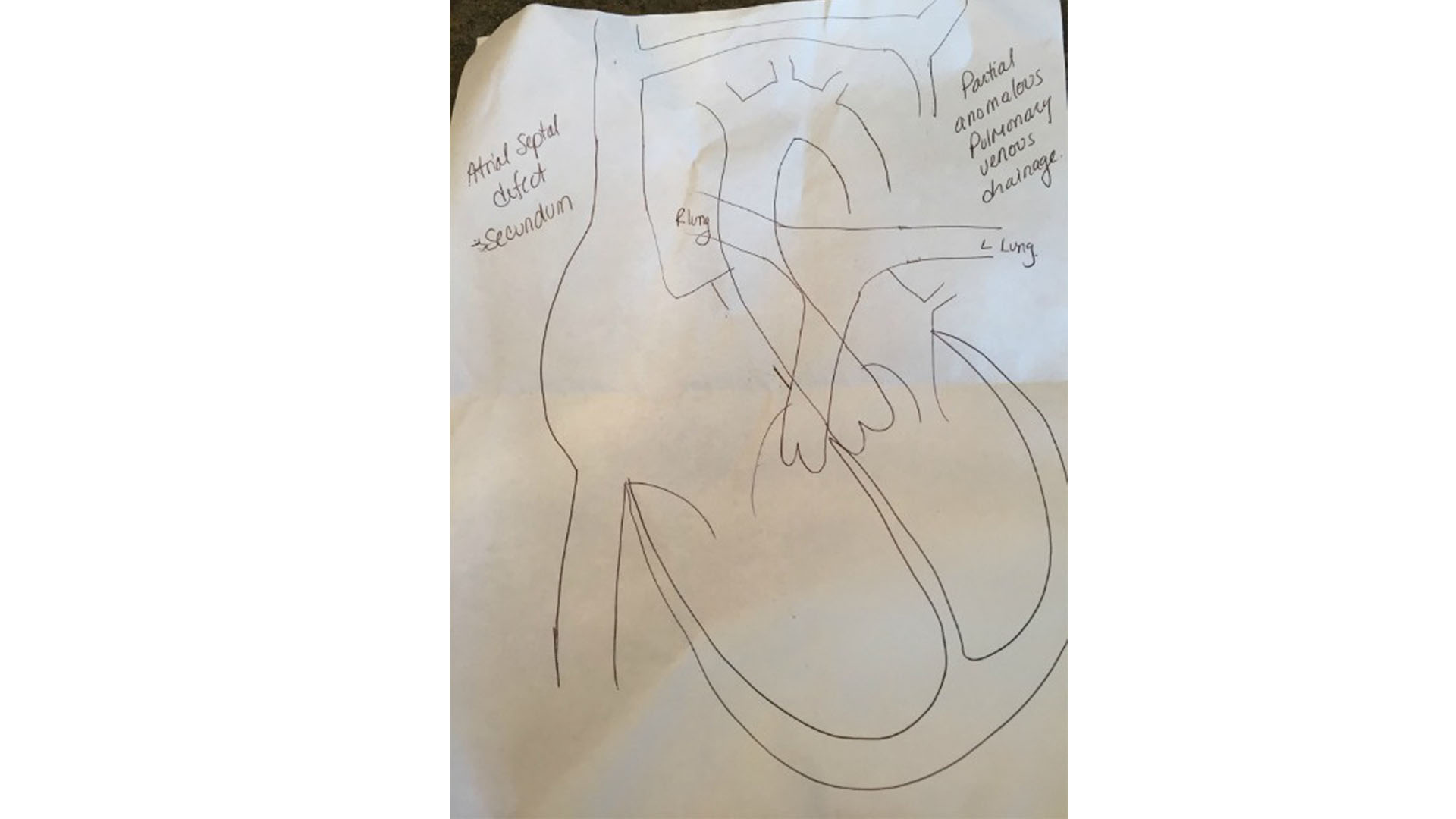 A cardiologist's drawing showing the areas of William's heart that need attention.
For two years doctors monitored William's health. In some children born with a congenital heart defect, the problem is small enough that it heals on its own. But that didn't happen with William.
Without surgery, his condition could become life-threatening. In January Anna received the call: William's surgery is scheduled for Feb. 10. Doctors are hopeful that they'll be able to fix both problems. Whether he will need additional surgeries, they won't know until after the operation.
Shortly after learning about William's condition, Anna began working at the Heart and Stroke Foundation as a community engagement coordinator, where she shares William's story with people throughout Saskatchewan in the hope of raising more awareness about congenital heart disease. She also recently launched her blog, The Heart of a Boy to help other parents who may be living through the same experience. This excerpt from Jan. 25 captures the challenges of explaining major surgery to a preschooler.
This morning we were getting ready to leave to bring Carly to school and William asked if he had daycare. I said that you have a doctor appointment today. He said "I'm not putting my jacket and boots on, never ever!" "Is the doctor going to hurt me when he fixes my heart?" I said, "The doctor will give you special medicine so that you don't feel pain. But today is just your eye appointment, not your surgery." Then he was fine to get dressed and he visibly relaxed.
In the car he asked me how they fix the hole in his heart. I told him that they will put a special patch on his heart to cover the hole. He said, "Is it like when you have a hole in a tire and they put a patch on it?" I was so amazed that he made that comparison. He then said once the hole is fixed the air will stay in and not keep coming out.
I then told him that the blood in his heart will go where it needs to keep him healthy. I feel so fortunate that he talks so well and asks lots of questions because then he will understand as much as he can or should for now. Each day he asks us if it is today that they will fix his heart. In 15 more days we will be able to answer yes to that question.
Anna agreed to let us tell her story to help other parents of children born with congenital heart disease. We'll bring you updates as William's story unfolds. You can also follow her blog at Kunzwordpress.org.