Dr. Michael Kirlew, a family physician in Sioux Lookout, Ont., will never forget the lesson he learned on a drive six years ago. An acquaintance was visiting Canada for the first time and had asked Dr. Kirlew to show him around the area, where about 31 per cent of the population are First Nations people.
"I had driven down this road thousands of times," Dr. Kirlew recalls. "At a certain point the road forks. One fork takes you to the provincial community; the other takes you to the First Nations community. And when we come to this fork, he turns to me and says, 'We started on a road that was paved. Why does the paved road only go down one fork?' "
Until then, it had not dawned on Dr. Kirlew to question why only a dirt road led to the First Nations community. "Here was a guy coming in from the outside who didn't know anything about our culture, the history, bringing a fresh set of eyes to a situation that I had acclimatized myself to as being just the way it is."
Dr. Kirlew sees a parallel with the health inequities that have been a fact of life for too long for Indigenous people in Canada. Accepting that this is "just the way it is" is no longer an option, he says.
Sol Mamakwa agrees. He is a health advisor for Nishnawbe Aski Nation, which includes 49 First Nations communities across Northern Ontario, Sioux Lookout among them. He says cardiovascular health in particular – heart disease and stroke – starkly highlights the health inequities Indigenous people face.
A closer look at the challenges faced by Indigenous communities when it comes to preventing and treating heart disease and stroke reveals gaps in resources that other Canadians take for granted.
Good health starts with prevention
Research has shown that Indigenous peoples are more likely to have high blood pressure and type 2 diabetes, which puts First Nations, Inuit and Métis people at a greater risk of heart disease and stroke than the general population.
Although 80 per cent of premature heart disease and stroke is preventable, the interventions needed to achieve that are often out of reach for many First Nations communities. Social and economic determinants such as income, education and food security impact health and create real barriers to good health.
Take food, for example. A healthy diet rich in fruits and vegetables and low in salt, added sugar and saturated fats is important in controlling blood pressure and reducing the risk of heart disease and stroke. A study released by the Canadian Centre for Policy Alternatives and Save the Children Canada found that half of First Nations children live below the poverty line. This number swells to 62 per cent in Manitoba and 64 per cent in Saskatchewan.
Indigenous people face some of the highest food prices in Canada. Too many families can't afford the food they need to stay healthy. That's especially true in Canada's north, where grocery bills are astronomically higher. For example, a 2015 Nunavut Food Price Survey found that carrots cost $6 and celery averages about $9 – compared to about a toonie each throughout the rest of Canada.
In his medical practice, Dr. Kirlew sees the impact of this reality every day. If you are on a fixed income, access to healthy food at a reasonable price isn't guaranteed; that's going to have a huge impact on your heart health, he says.
Regular physical activity is another critical piece of a heart-healthy lifestyle. Many First Nations lack the infrastructure to provide playground and sports facilities for youth. Plus mental wellness issues can have a huge impact on physical activity; it's hard to take care of yourself when you are coping with depression, suicide and addiction.
When emergency strikes
If you live in a remote Indigenous community, you know that it's often necessary to travel great distances to access basic services. If you're having a stroke or other medical emergency, these distances can mean the difference between life and death.
A stroke, typically caused by a clot blocking blood flow in the brain, causes brain cells to die at a rate of 1.9 million every minute. That's why it's urgent to get fast treatment. Clot-busting drugs can stop the effects of stroke, but only if they are given within 4½ hours of the stroke's onset.
Paramedic services aren't available in most remote Indigenous communities, forcing family members or friends to drive the person to a nearby nursing station. A report by the Auditor General last year found that nursing stations on reserves are chronically understaffed and face severe medication shortages. To complicate the issue further, many life-saving drugs may not be available or accessible under NIHB (non-insured health benefits), the drug plan available to First Nations and Inuit people.
The coordination of ground or air medical evacuation services alone can eat up precious time that's critical for survival and reducing disability from stroke. Depending on the weather, evacuation can take anywhere from four hours to three days, Dr. Kirlew estimates.
Steps toward solutions
Where you live in Canada shouldn't determine the quality of care you receive. Decision makers tend to give geographical distance as the reason behind shortcomings in health care for First Nations people, Dr. Kirlew says. "Unfortunately, instead of this fostering innovation, it's fostering barriers being created."
He believes the solutions are in the First Nations communities themselves. "I hear so many great ideas from the people who live here. They know what they need. The most recent idea I heard was around improving physical activity through organized, structured community programs. Not only would you get the cardiovascular benefits but you would also get that cultural element too, which we know is so important. Why can't that be built?"
It's not that people haven't stepped in to help, both Dr. Kirlew and Sol Mamakwa want to clarify. But systemic problems require fundamental change. Government, organizations and doctors need to have an honest conversation around the community's needs first, in order to come up with viable solutions together.
It can't be a prescriptive approach, with experts coming in to say, "This is how you solve your cardiovascular issues." It has to be a truly collaborative process, says Mamakwa.
Taking up the challenge
The Heart and Stroke Foundation is committed to developing such a process, to work with Indigenous communities to identify the gaps and find solutions together. A roundtable with the Foundation's health partners is planned for this fall. Plans to roll out a CPR training program for Grade 8 students in First Nations communities are underway. The program is based on a train-the-trainer approach and includes AED placements where none currently exist.
For Dr. Kirlew, finding the answers starts with asking the right questions – questions like why one road is paved and one isn't.
"It's questions like this that will get us thinking and moving in the right direction, so that everyone, regardless of where they live, gets the same quality of healthcare."
A trip through Indigenous history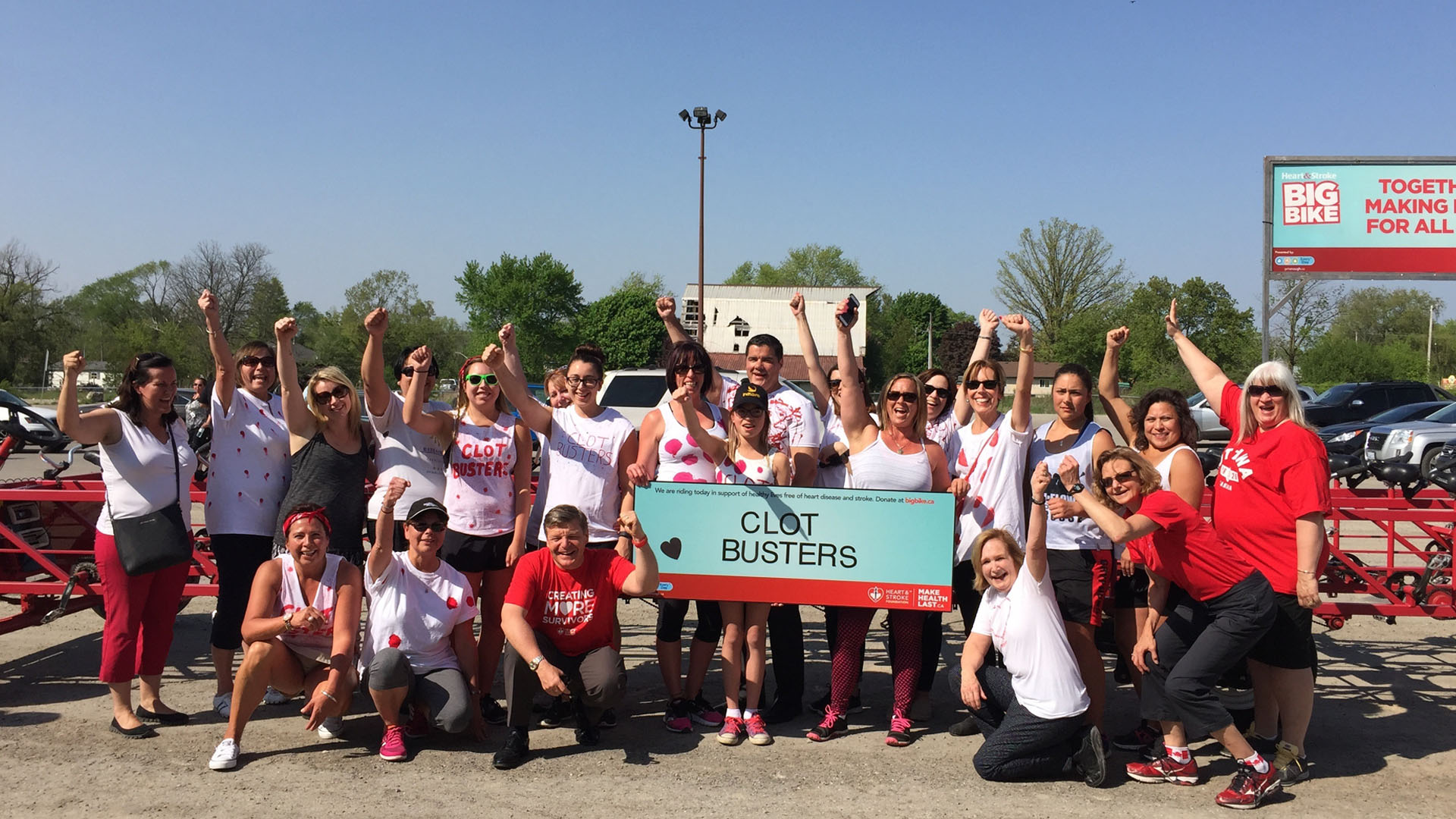 Heart and Stroke Foundation Big Bike ride at Six Nations of the Grand River Territory
The Heart and Stroke Foundation's Big Bike rolled through the southern Ontario community of Six Nations of the Grand River Territory on a recent fundraising drive.
More than 200 participants rode the 29-seat bike that day, including half a dozen members of the Heart and Stroke Foundation's national leadership team. Together the Six Nations riders raised more than $12,000 for life-saving research.
The Heart and Stroke executives took the opportunity to tour the area's former Indian Residential School – Canada's first, the Mohawk Institute or more commonly known by the Indigenous community as "the Mush Hole" – located at the Woodland Cultural Centre in Brantford.
They also visited the Six Nations Health Services Complex and met local executives to discuss the Foundation's health reconciliation work in the Indigenous community.
Seeing the former Residential School made a powerful impression on the Heart and Stroke team. "We need to truly understand the impact of this legacy on the health and wellbeing of Indigenous peoples, as we work with them to address health inequities through reconciliation," said CEO David Sculthorpe.
The visit was organized by Wendy Johnson, National Director of Indigenous Health for the Foundation and a proud member of Six Nations. Wendy knows first-hand the impact of heart disease on too many Indigenous families: she lost her father and sister to the disease, and another sister is living with heart disease.