A: Yes! Everyone should get a flu shot.
If you've had a heart attack or stroke or if you have heart disease, it's especially important.
This is a no brainer. You don't have to ask your doctor first. Don't look for a reason not to get it.
The heart disease connection
In research that we published in 2013, we studied more than 6,700 patients with a history of heart disease. Those who received the flu shot:
had a 36 per cent lower risk of a major cardiac event (heart attack, stroke, heart failure) one year later
had a 55 per cent lower risk of a major cardiac event if they had a recent heart attack
were less likely to die from cardiac-related causes.
So the flu shot helps prevent heart disease in vulnerable patients, with the best protection for those at the highest risk.
The Public Health Agency of Canada and the U.S. Centers for Disease Control recommend that anyone with a history of cardiac events get vaccinated.
The shot makes sense for everyone
You should be immunized even if you're healthy. By getting a flu shot, you're not only protecting yourself, you're protecting your family.
It's especially important to get vaccinated if you work in a busy public setting or with people who have health conditions. The only reason to delay is if you're running a high fever or suffering from flu-like symptoms.
Don't believe the naysayers
Of course there are people who believe the flu vaccine doesn't work. Others say it makes you ill. I've heard some pretty crazy conspiracy theories.
The vaccine isn't perfect, but it reduces the chances of catching the flu by 60 per cent. It contains an inactivated dose of the flu virus, which can't infect you. It prompts your body to build up resistance to the top three strains that are most likely to circulate this year.
If we had a medicine out there that could reduce your risk of anything by 60 per cent, you would probably take it.
What's next
After the promising results of our previous study, we launched a new clinical trial last year. We're enrolling 9,300 patients across North America who have had a heart attack or been recently hospitalized for heart failure to determine if one of two strategies of flu vaccine can lower their risk of a secondary event.
There's a possibility that a higher-dose flu vaccine can provide additional protective benefits to adults 65 years and older. This trial will be the first to examine how different doses of flu shot can potentially reduce risk and prevent secondary events in patients living with heart disease.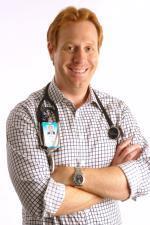 Dr. Jay Udell is a cardiologist at Women's College Hospital and the Peter Munk Cardiac Centre of the University Health Network, and a clinician-scientist at the Women's College Research Institute and Faculty of Medicine, University of Toronto. He received a 2015 CP Has Heart Cardiovascular Research Award through Heart & Stroke to study the impact of failed fertility treatment on women's heart health.
This trial is currently enrolling eligible patients. If you'd like to learn more or are interested in participating, send us an email at editors@heartandstroke.ca
Unfortunately we cannot provide personal replies. Questions of general interest will be answered in future Heart & Stroke publications.
This article is for informational purposes only and is not a substitute for medical advice, a medical diagnosis or treatment from a physician or qualified healthcare professional. The Heart and Stroke Foundation of Canada assumes no responsibility or liability arising from any error in, or omission of, information, or from the use of any information or advice contained in this article.